Google is all set to make search real, relevant and fresh. In order to make its mission statement intact, it has been introducing one algorithm updates after the other. Google authorship markup is one of the most important features that was introduced in 2010 to make sure of the real human being behind each search result while stamping out spam and anonymity from Google index.
Though you would find some great resources on how to set up Google authorship but the post will cover almost everything from setting up Google authorship markup, benefits, authorship for brands, personal branding, authorship wordpress plugins and more…
To make the Google Authorship easier to understand,
Google Authorship is a feature that establishes and confirms content ownership to an individual by displaying the headshot picture and name next to the link in search. By linking your Google+ profile with content, you associate with the content you write for your website or contribute to others as a guest.
The authorship allows your content appear like this in search results that clearly indicates, it does help with visibility.

Benefits of Google Authorship
From better visibility, credibility, personal to business branding, there are multiple benefits of Google authorship. To mention a few important one, here goes some of the benefits.
Increases Your Click Through Rate 
Results with an image and author byline with Google+ profile next to the next attracts users more than orphan looking search results. This rich snippets stand out and make users click more often irrespective of the ranks and positions, increasing your oevrall CTR.
Builds Trust & Credibility 
Google authorship gives an opportunity to buil trust and credibility right from search results without meeting your potential prospects in person. The idea of showing up a real human face and profile with minimal verification process separates you from other SEO manipulated results.
Establishes Authority 
Google authorship shows the follower count next to your profile link that further adds to your authority. Higher people adds you to their circles, more authority and credibility you gain. It's a small social proof that can initiate a potential click.
Confirms Content Ownership
Google authorship clearly confirms the content ownership by the original author irrespective of their own site content or contributed to others. Fighting plagiarism isn't tough for Google or users anymore.
What do you need to establish Google authorship?
Your page with content (Your blog/site or page where you have contributed)
Google+ Profile
How to set up Google authorship for your site/blog
3 Easy steps and Google will start showing your cool looking rich snippets in search results. Google provides a quick guide to set up the authorship and I'm making it easier for you to follow with screenshots.
Step 1 :- Verify your email address on Google+ profile about section. It is recommended to use one email, however, you can use multiple emails to publish content for different niches as long as you verify all of them in your Google+ profile.
Step 2 :- Add sites to your contribution list in Google + profile.

Step 3 :- Add your Google + profile link on your content page. This step is needed if the content is hosted on a a static site. You would need to add a small code with rel=author tag
<a href="[profile_url]?rel=author">Google</a>
After replacing profile url, mine looks like
<a href="https://plus.google.com/u/2/107495070033208764930/posts?rel=author">Google</a>
3rd step to verify Google authorship markup comes very handy with latest plugins most of the CMS offers nowadays. In wordpress, Yoast SEO plugin and Fancier Author Box plugins make it very easy. I have shared some easy and popular wordpress plugins for authorship in this very post. Some wordpress versions seem to mess up with photo option. You can use this "user profile" plugin in case your photo doesn't appear in author box.
For Joomla, the available extension is "Authorship Markup" (http://extensions.joomla.org/extensions/news-display/content-infos/authors/22538) and for drupal, social media module offers the same feature. The feature makes it easier to handle multiple authors and larger websites and blogs.
How to set up Authorship for content contributions to other sites
Google needs you to complete the verification circuit to confirm that you belong to certain content. There are 2 methods to complete this circuit.
1) Three Link process – You need to set up your bio page and follow these 3 steps.
1. Add your content pages links to your biograohy page.
2. Link your bio page with your Google+ profile by adding to contributors list
3. Add your Google+ profile link on your bio page. The image will make it simpler to understand.
2) Two Link process: This method is used for content that is not linked to your bio page. This mostly happens when you submit your content to certain directories or web 2.0 property and may not list all of them to your bio page. All you need to do is to have a 2-3 liner mini bio with Google+ profile link to the bottom of each page.
Read this great resource to get more help with setting up google authorship for guest contributions.
How to Set Up Multiple Authorships
If you have multiple author pages and want to communicate that they link to same the person ( for example, you), use rel="me". For example,
You are a regular contributor to http://www.SunitaBiddu.com. You may have a link on your author page at http://www.sunitabiddu.com/yourbio/ to the page you have your own blog say; http://www.YourBlog.com:
<a rel="me" href="http://www.YourBlog.com">Read more about "You"</a>
In turn, your profile on http://www.YourBlog.com points back to SunitaBiddu.com's author page like this:
You have also contributed <a rel="me" href="http://www.sunitabiddu.com/yourbio">lots of articles to Sunita Biddu Blog</a>.
The reciprocal rel="me" links placed on any content channel informs Google that the profiles at main author blog and site of contribution belong to the same person.
It could be a tedious and time consuming manual process to work on multi-author site. WordPress plugins came handy to make this task eaiser.
WordPress Plugins to SetUp Google Authorship
Fancier Author Box:  This plugin works more than just Google authorship. It gives a good looking authorbox, social links, latest posts and your profile picture. My blog is using fancier author box only.
Google Plus Authorship:  One of the simplest authorship plugins for makes profile picture and website appear in Google Search. It works well with both Google authorship for multiple authors and for wordpress multisite.
AuthorBox Reloaded 2: Other than working tool for authorship, the plugin allows the author to define links to external sites and social channels like twitter, linkedin, netlog, drupal association etc.
WP Social SEO Booster:  This is an awesome plugin which is supported by popular seo plugins like yoast, all-in-one-seo. WP social not only helps with authorship for single as well as multi-author blogs but also adds Facebook Open Graph, twitter and include ALL the different types of microdata like schema.org to ensure complete search engine visibility.
AuthorSure:  This plugin comes with many additional features like control for no-follow attributes, supports many ways to link your author pages with menu, bylines, links and more, set up archives for authorship. Moreover, the plugin support has written awesome instructions (http://www.authorsure.com/category/themes ) on how to set for most popular themes
How to make sure it is done right?
Once you've completed the verification process, use this free Google Rich Snippet Testing Tool to verify whether or not Google Authorship is set up successfully. Google offers easy step by step suggestion pages to do it right if something is not working properly.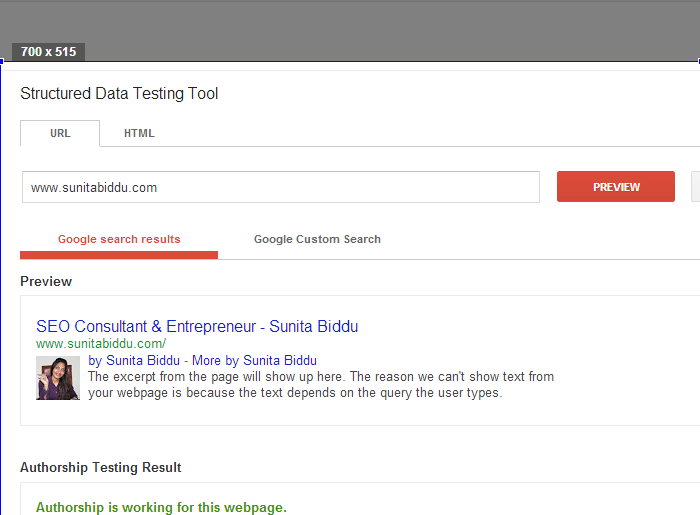 How Google Authorship helps businesses & brands?
Okay, we have everything set and special for individuals to power personal branding. Nothing for companies? Brand? Google took an extra step and introduced Google brand publisher to help brands and organizations distinguish themselves with a competing advantage. This is a detailed resource on brand publisher and there are easy plugins to set up brand publisher and authorship on one go. Google authorship for business has a great future for better brand visibility for sure.
How to maximize the opportunity with brand publisher with Authorship
The authorship is recommended and powerful for brands where personal branding is equally important to build up trust and credibility. Areas like law, real estate, consulting and medicine works better with authorship and brand publisher keeping together.
SMBs with brand puiblisher on, set themselves apart from faceless search results.
Most SMBs are either narrow industries where you cannot make frequent content updates on company Google+ pages. Authorship offers an inexpensive way to distinguish them from others in search results.
A known face next to the brand impacts the target audience behavior directly with an emotional connection. Users are more likely to click a result when they are familiar with the face associated with the brand, thus, inviting more clicks and increasing the CTR.
What is Author rank?
Most people assumes Google authorship and author rank as same thing. They clearly distinguish from each other.
Authorship is the current feature that connects all your content on the web to you and your ownership via your Google+ profile. Whereas, author rank is a yet to launched concept that Google may use in future to rank authors by collecting data from their authorships. This concept will potentially affect search results as more of trusted authority content links may show up higher than others.
Does Authorship help in search engine rankings?
Google authorship SEO is is a hype but as of now, it doesn't influence the search engine rankings but it is only to make sure the content belongs to the rightful author and enhance blogging transparency. Google's Director of Product Management on Search, Sagar Kamdar says;
Not for now, but it isn't off the table. We use over 200 signals to determine search ranking, and although authorship is not currently one of those signals, we hope to experiment with using information about authorship as a signal in ranking in the future. It could clean up search results if Google decides to implement it"
To conclude, there are some awesome tools to power up your Google+ profile. Some of the most effective ones include use of Ripples, using communities, detailed Google+ guides. And here goes a Google authorship and Google+ flowchart  for people who find diagrams easier to understand.
Now, it'd be great to have you join me on Google+. I love to connect with like minded people and those who have a never ending room for learning and contributing to the community. I'd love to help if you need any assistance on how to set up Google authorship,  powerful blogging, setting up an effective blog, getting audience for your site and blog or if you stuck in marketing strategy; feel free to email me at hello@sunitabiddu.com. You can also ask your questions directly at my facebook wall and they would be answered within few hours.
Happy blogging!
Image courtesy by http://litstack.com
Update: Google authorship is no longer available.