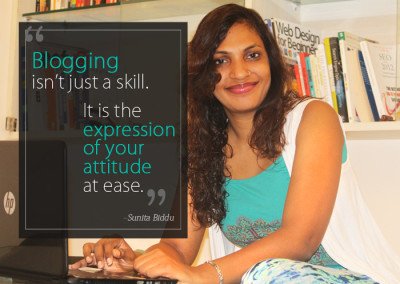 A coach will help you take the right roads and at the same time, address the roadblocks you may have in your blogging journey. Blogging works as a powerful marketing and credibility tool, practically for any profession and business now. I will hold your hand and help you enjoy your blogging journey with better and faster fruits.
How would I help you as a coach
We will build your blog strategy together and align it with your revenue goals
Will do webinars and build a name and fame for you
Will take insights and monetize the traffic at the early stage
And most importantly, I will offer one-to-one time on sessions every week for 6 weeks.
These six weeks are exciting and involves a huge learning for you. I will help you master the blogging skills so you can build, brand and manage a successful blog that gives you daily referrals.
This coaching will not just focus on writing but also on marketing it right. Here are a few lessons and How'to's that will take you far;
* Building a WordPress website and blog that stand out
* Best blogging practices to engage masses
* Content marketing practices to attract prospects
* SEO friendly writing skills for mind blowing returns
* Social media marketing to market your blog
* Sales funnel creation to maximize conversions
* Email marketing to be on top of loyal readers
* Best list building and conversion strategies
* and a lot more…
And then how to
* create a unique, successful and incomparable blog
* be organized and make blogging easier and more profitable
* Create blog content that gets noticed and shared.
* identify the roadblocks and eliminate them
Blogging is not just about preparing a good message but getting that message heard.
You CAN make blogging profitable, enjoyable and powerful. It's simply a matter of finding the best blog coach—one who understands and practices this technique, one who can show you the wings to fly.
Get Into Blogging Sooner Than Later. And Get A Coach, Today.
Ask me anything. I am just a message away 🙂