Taking those marble stairs to 21 Gun Salute, I had couple of crazy butterflies dancing in my belly and I asked them to calm down while I entered the venue. And the first thoughts were Ethnic followed by Colorful, Beautiful, Professional, (A little serious ambiance around), I quickly recognized the host Manjinder.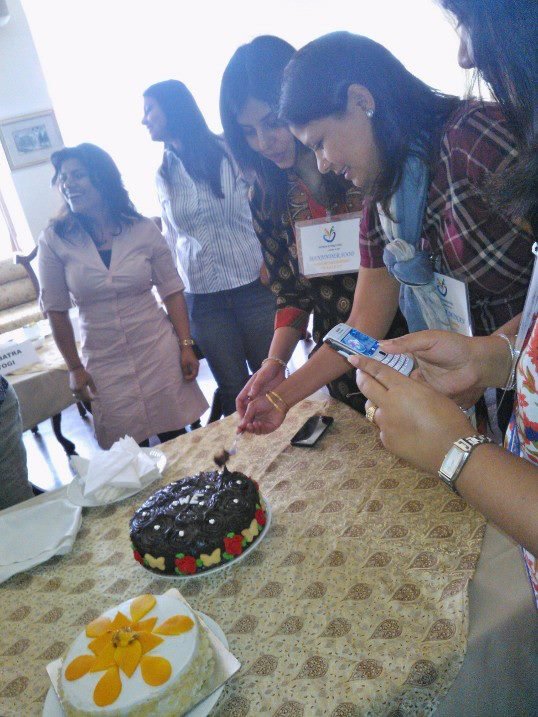 Before I head off to the Launch of Women Energizers mixer details today, I must thank and congratulate Manjinder who is a chartered accountant by profession, for gearing up such group of empowered and strong women to help each other grow together. It must have taken her lot of efforts, patience, hassles (am sure) and it was very sweet of her to share the credit with 5 of her friends who supported the meet and thought.
It made me smile the way she thanked her husband for inculcating the thought of creating such group. I am sure everyone of us is equally thankful to him, Manjinder 😀
So, here the launch meet of Women Energizers begins with a cozy whispering around, ladies trying to chat and introduce each other, some coming and trying to find their seats. Some might be the first timer and yet to have a smile or Hi from the other end to start with.
I thought of exchanging some quick intro and thoughts with ladies sitting at my right and left. Karuna, Kavita and Shagun were great to talk to and they were the ones I stay connected throughout the mixer.
It was awesome to see the launch starting almost on time and after a subtle and kind opening and vision of WE by Manjinder, a wonderful round of introduction session began. Wow.. wow and wow! Other than it was stretched a little longer but necessary and interesting throughout, it was simply inspiring to know women of wisdom who chose to excel, took up their passions, most of those quit their corporate jobs and living life of dignity yet managing their homes, kids and families.
A powerful impact I had by the time all the intros were over. I have been to lot of networking events and this one was one of the the most diverse with ladies coming from different professions and life stories (The reason could be comparatively free time to introduce themselves).
And interestingly, I introduced and acted so very "unlike" me. LOL. I was so occupied in listening to others that I fumbled when it was my turn. Couldn't even introduced myself properly, who I am, what I like, how I can help with…  (I'll introduce myself at the end of this post)
There were 3 doctors one after the other and sitting together. While it was interesting to hear all 3 of them, I loved the way when Dr. Neelima Jain advocated the integrated approach to help the patients with best suitability and wellness without sticking to certain pathology. Her maturity and experience reflected in her thoughts 🙂
It was great to know the journey of Nidhi Khurana who opted to start her venture with themed parties and activities. She even got a game for today's launch mixer but unfortunately, I couldn't play it. It turned out to be a bouncer for me and I'd love to play it again sometime 🙂
I liked Dhaarna Bahl personally for a fresh girly look and got to know she is a mother 😀 And she walks her talk and reflect her choice of good westerns the way she was nicely yet subtly dressed up today.
Ila seemed to be excited and emotional at the same time and we love her for her spirit for her passion and profession. Thank you so much Ila for the cakes today and I can still feel the mango flavour. To inform you again, I'd be your regular (and demanding) customer for fruit cakes.
I was damn impressed with poise, calm and graceful Mansi Kothari who is a mind therapist and help people come out of their comfort zone the easy way. She can help you  with more than this and unfortunately, I couldn't talk to her. Mansi, I'd love to stay in touch with you. Just to add to this, I personally experienced this conflict, restlessness and then comfort when I moved out of my comfort zones, cocooned and hibernated life to mix and meet with new people. And it was easy as I pushed myself.
Supriti Batra who is a make up artist was equally graceful in her almost no-makeup avatar today. I was wondering when she introduced herself. I am sure gonna attend her workshops.
I'd admire Vandana Bansal, the Oriflame lady, for staying different and opted to introduce herself in Hindi without even a single hitch. Wonderful girl 🙂
And 3 cheers to LuluPu Lady, Karuna Chauhan, who successfully came out of her comfort zone and not only introduced herself so well but expressed her plans and thoughts very well. (Karuna, I may tell you later more about it and that… I was observing you.. cough cough***) Wish you all the very best for your venture.
I was mesmerized by the Hair and beauty expert, Malti Sahwney, how she is ditching her age. She can be the brand ambassador of Women Energizers the way she reflects the energy and looks young with her activities, style and thoughts. Simply loved and actually waiting for my hair to grow longer so I can have a haircut soon.. Ahmm ahmm *** I am truly inspired, Malti Aunty (wow, I am addressing someone Aunty after years)
I can't miss talking about Viola the way she hit a burst of laughter in the hall with her non-coming, in-coming, when-coming and finally coming children. Viola, I loved your name 🙂 and I wish you get to find your passion and profession soon.
Finally, I'd love to be thankful to Sanjana Mohan for this beautiful venue and great refreshments. You'd see me often with my gang. We all like to discover new places and food.
And when I was above to leave, I had a quick chat with Megha and it'd be a pleasure to be of any help in her unique travel venture experiment.
It's purely my personal experience to highlight a few 🙂 I couldn't manage to meet and talk to everybody (infact talked to almost nobody except a few who were around), I'd love to be more expressive and interactive so in future mixers and meetups.
Concluding the mixer blog with my introduction; I am Sunita Biddu, SEO strategist and social media advisor by profession, a concerned sister and proud daughter by love, a salsa dancer and cook by passion and a crazy observer by mood. I love to help business owners, entrepreneurs and professionals improve their web presence, reputation and online visibility with effective website and SEO marketing. My profession involves a little technicalities and I love to make and appear things simple for my customers and friends so they realize the online potential that can give them a huge prospect base.
I'd love to help you if you have any questions or concerns related to your website, online presence, blogging, social media or business startup. Just feel free to drop an email to hello@sunitabiddu.com or I'd love to see even a hello from you to connect.
Loved being at the mixer, Thanks again to everybody who made it possible.
See all of you soon again next month.