Best SEO Books For Beginners
Here, I am listing (and will keep updating) the most recommended SEO Books for beginners to increase your SEO rankings in all major search engines. Some of these books were written long ago but still make an awesome base with their latest edition.
Jan 27, 2015 - amazon.in -

130
This is again one of the top selling SEO books which is great book for beginners and an easy read. With a conversational voice throughout, the author makes it easy for you to understand all the nuances of search engine optimization and tells you the procedures that you can follow to attain top ranking in Google within 30 days.
Feb 14, 2015 - amazon.com -

156
This 60 pages book is one of the easiest shortlists of complete understanding for beginners covering all the basic principles of SEO. It is covering how Google updates affect the websites and rankings, and how exactly they work. The book is even useful for advance users. To add on, it has got some good tips on content creation and design.
Feb 14, 2015 - amazon.com -

170
This thorough book of around 200 pages is an ultimate beginner's training system for forward-thinking businesses and entrepreneurs to help dominate ranking not just on Google but also on social media, and blogs. The book also shows an easy and amazing way to attract followers and leads by building a vibrant community around your content. From where to start to how to start making revenues online, this is a not to miss book for SEO.
Feb 14, 2015 - amazon.com -

138
One of the easiest. short yet useful reads, SEO Step-by-Step makes a true beginner's guide covering years of SEO experience yet equally powerful and up-to-date for 2015. This book is more of a blueprint of making money by tested methods created in the form of tutorials. Some of the useful chapters are like successfully SEO optimize your website or blog to get maximum search engine traffic and Use Social Media Marketing to boost your audience (without spending all day on Twitter) has already several users make more money after reading this book.
Nov 03, 2015 - amazon.com -

163
One of the easiest to understand and my personal favorite for top SEO books, The Art of SEO shares guidelines and innovative techniques that will help you plan and execute a comprehensive SEO strategy. From basic to advance, this third edition for 2016 helps with updates on SEO tools and new search engine optimization methods in the new SEO landscape. No wonder why it is considered one of the best SEO books for beginners as well as advance marketers to own.
Visit the book website (http://www.artofseobook.com)) for FAQs
Nov 03, 2015 - amazon.com -

132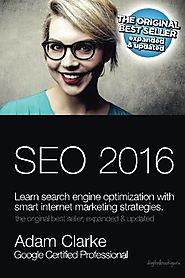 Irrespective of any background, SEO 2016 makes it easier for you to understand as well as implement search engine optimization techniques to grow online reputation and revenues. Written by Adam Clarke, this is added to the top SEO books because of the brilliant reviews received by authority purchases on Amazon.
Nov 03, 2015 - amazon.com -

153
SEO is not complete without great content. And this book made its place to top SEO books for reference because of its easyto implement go-to guide for creating ridiculously good content. Written by reputed digital marketer Ann Handley, this book is a must have for every fine marketer who doesn't want to compromise on brand reputation or the revenues. Add it to your shelf today!
Nov 03, 2015 - amazon.com -

154
One of the best seller SEO books that covers Panda and Penguin updates, free SEO tools recommendations. It's also known as one of the most expensive SEO books and worth buying because you can create a powerful SEO strategy with this step-by-step guide. The reviews by people who read and followed are surprisingly amazing and can encourage any marketers or entrepreneur to add it to their reading list and reference shelf.
Nov 03, 2015 - amazon.com -

156
SEO isn't a one man job. It needs a team. And this book helps you from finding the right partners and how to get the work done with the perfect outsourcing skills.It also includes a free audiobook. The book made its place to best SEO books because of the ease, different sort of content and amazing reviews from real people. Written by Sam Adodra, this book is a good addition to your read-list for a regular reference.