She was just a little adorable kid herself and now our sweetheart labra witty became a mother of little black pups this morning.
It was surprise for me and everybody who knew witty because none of us ever knew that she was pregnant but today morning surprise was definitelya pleasant one.
And specially looking at a delivery. I really regret and wish I knew that she is expecting so I could take better care of my sweetheart but anyways, Thank you Witty, for these two lovely babies and one of them is just a copy of you. Sharing the  pictures here. Couldn't take many as she is possessive about her kids :p Arn`t they beautiful?
Witty Babies
With this, I want to s hare a picture that was shot one week back and never knew that I'll find my little girl as a mother next week.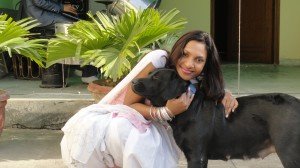 Witty and Sweety
I'm busy playing with these adorable pups….