When it comes to updates in order to improve user experience, Facebook is always the one social network that makes one heck of a difference in this regard. This time, it was about the News Feed; they have been doing some updates in last few months and they are going to have a big impact in the way handle their accounts from February 2018 onward.
What Is This Update About?
The News Feed system was updated in order to rank accounts based on interactions (comments, likes and things of the sort). This is coming from Facebook's desire of wanting you to see and read far more content from people rather than pages. Or from the pages that have more interactions from people.
The aim is to create content that is far more thoughtful and to draw people to contribute with comments, well-structured opinions and many other things rather than just likes and one-liners.
From Facebook post,
As part of an ongoing survey, we asked hundreds of thousands of people how they feel about the content in their News Feeds. People told us they wanted to see more stories from friends and Pages they care about, and less promotional content.
We dug further into the data to better understand this feedback. What we discovered is that a lot of the content people see as too promotional is posts from Pages they like, rather than ads.
As we can see, this update has brought ads, a minor role on Facebook and brands getting a bit squeezed out at the moment.
What Does This Mean For Pages?
Beyond anything that can be said about the News Feed update, this is a complete game-changer for brands that have Facebook pages. The most obvious reason is the one we just explained: Facebook is now going to prefer the contribution of people rather than that of pages in our news feed and timeline. But it's a little bit more than just that.
But what exactly led to such step?
As time went on at Facebook, there were more and more pages offering subpar content that doesn't really add up to the platform–this is one of the main reasons pages are going to have a minor role in the coming years. We started to see more of;
1. Posts that solely push people to buy a product or install an app
2. Too much Gyan and knowledge presuming it's establishing brand trust among fans
3. Posts talking more about products and services features instead of needs, questions and concerns audience may have
4. Posts that push people to enter promotions and sweepstakes with no real context
5. Posts that reuse the exact same content from ads
Is this bad? From a general point of view, perhaps. From the perspective of a brand that takes this new set up as a challenge? Not quite.
What To Do To Stay Ahead?
Like any game-changer, things are going to be different and that requires a new approach. There are a few things that pages need to do to stay relevant and ahead from the rest of the pack:
Begin with analyzing your page content strategy
Facebook offers brilliant insights section. See what has performed well and which posts were dropped dead without any reach. Create more content around the posts types that gathered some engagement. Consider asking a question or creating a poll to ask your page followers what kind of content they would like to see. Boost this post for more reach.
Don't use click-bait links or posts
Click-bait content is lowering the platform's standards and making it less attractive to potential users. Try to offer a much more original content and don't rely on what is psychological manipulation to gain results.
Start writing content in a more natural manner
Ask yourself this:
1. Is your content written in the way a layman would write?
2. Does your content read itself as exciting and enthusiastic?
3. Is it relevant to the followers?
This is something worth taking into consideration; most Facebook pages nowadays sound like they were written by robots and you have to stay above to control these situations.
Don't exaggerate with self-promotion
We get it: you have a business and you want people to know about it. Great, go for it. But try not to abuse that or you are going to reach a state of annoyance with people that's probably going to scare them off, so try to reach a happy medium with your promotional content.
Be more selective and demanding with your own content
It's not always Facebook's fault; this is a good time to take a look at your page as a new prospect and ask yourself if the content is living up to the standards of a quality brand. Did you feel a liking for your own brand?
This will lead to you asking yourself if you are always publishing the right content. It will make you study the market to reach the right audience, what they want, what they don't want and to make overall changes to how you work and how things work.
Don't use a personal profile
That doesn't work to promote a brand; stick to your guns and try to find ways to improve your content for pages if the primary aim is to create brand awareness and make some money.
Post easy to understand and simple content
Noone wants to see complicated post. None has time to interpret difficult posts. It's good to be thoughtful but prefer posting simplest, easy to understand and most useful content on your pages. One liner FAQs, quotes, fun tips and facts, great visuals are the game.
Use all the tools Pages offer to create mind blowing content
Facebook has got over 8 cool tools to help you create variety of posts. How often you have used notes and polls. Have you tried Facebook Live on your page?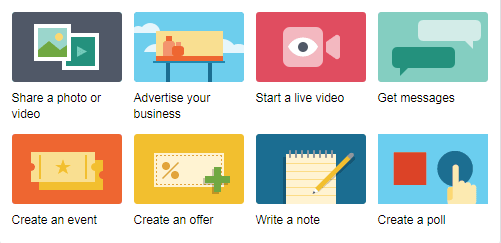 And here are 30 more post ideas to increase your Facebook page reach and engagement. Download your FREE 2Book
What Does This Mean For Profiles?
For profiles, this would be a Golden Age of sorts. Now they are going to get a much more central role and their posts would be higher-ranked in the News Feed. Of course, this has a certain set of conditions:
– First of all, the content has to be a little longer now and have a better structure in order to reach a higher ranking.
– The more comments and interactions your posts have, the higher the ranking and likelihood to appear in your network's news feed.
– If the comments are properly written and are long and well thought-out, then this is going to give the post itself much more resonance. Of course, you can't control what people write, however, you can certainly take the conversations further with more participation at your end.
Overall, profiles are now the main aspect of Facebook and they are the heart of the platform; their interactions and their posts are going to be the main event, prompting people to have a bigger degree of interest in making content, thus reducing the amount of short, sort-of-spamming posts.
Are Groups Affected?
In a positive way, yes. Because they are one of the prime areas of Facebook for discussions and interactions between users, groups are now going to have a much more important role in the News Feed, thus prompting people to participate a lot more in this area.
This is strictly related to what people do in their profiles, after all; they are the ones that create the groups and post the content that develops the conversations and every other kind of interactions. In case you are also handling a brand, it's important you don't use groups as a gateway to promote your work just because Facebook made things a bit more difficult for you; groups are made for interactions between users, not to promote work of this sort.
What Brands Are Doing Well With This Update?
In recent weeks, since the start of these updates, it wasn't surprising to see many brands dropping their reach and engagement due to this update. One iconic example was one company that had an engagement of 14,000 the week before the updates and they are now having a mere 500 since that.
So, this wouldn't be a question of what brands are doing well with this update, but rather what brands are not doing that bad with this update.
One final advice we can give you: just go for it. Yes, things are getting a bit rougher for brands at Facebook, but that doesn't mean it's impossible to get great results.
To help you further, I would love to quickly look at your Facebook page and tell you what you can improve. Just share your page in comments and I will answer.