Your website and blog are a combination of several essential pages. Many business owners and authors feel that our service and product pages are the money pages, which is true. However, many of us don't usually realize that your about page is your gold mine. Having a compelling, convincing, and interesting about me landing page is the key to your credibility.
Refer and save this post to learn how to write a bio about yourself, how to write an about me page that leaves a long-lasting impression on your first-time readers.
It is not difficult to write a bio about yourself if you know the do's and don'ts and that's what you'll find in this post along with some brilliantly written best about me pages examples and ideas. I have tried to give a structure that you can easily follow and learn how to write an about me page. (Even feel free to improvise this base and create your own).
But let's address a bigger question first.
Why Is Important to Have an Expressive About Page
I realized the importance of my about me page when my Google analytics data showed my About me Page as one of the most frequently viewed pages with the lowest bounce rate and highest conversion.
Your about me page is your biography. Your bio is a story. Sharing a good story and giving a glance of your life and personality with your prospective customers is one perfect way to humanize your brand.
Another reason why a crisp and professional bio page is important – is to let your readers know your journey and what your future plans are.
Writing an about me page for a person is different from writing it for a business entity. This post focuses on writing one for bloggers, coaches, authors and mostly solo entrepreneurs with a blog.
How Do You Make an Impact with Your About Me Page?
The very first sentence of your about page should have your name/brand to grab your reader's attention and tell them what they are reading. It's quite like how you introduce yourself when you meet someone in person. Here's what to do next:
Maintain a Conversational Tone from the Start: Share a story about your business and brand in a personalized manner. Begin with your present, what you're up to these days then move backward chronologically to explain what exactly sets the subject apart. Check this one https://leihu.com/life
1. Share what they can expect from your website or blog
Tell your readers what they should expect when they decide to surf around the site. Chances are high that they came following a blog link from social media or service page from the search. Writing a good about me page means meeting your first-time visitors' expectations right and leaving the first best impression. So they already felt like knowing you and decided to find your about page.
Now, you can direct them to more useful posts, some of the best offers and products they can utilize and if you have a giveaway. Check this one – https://josephpayton.com/about/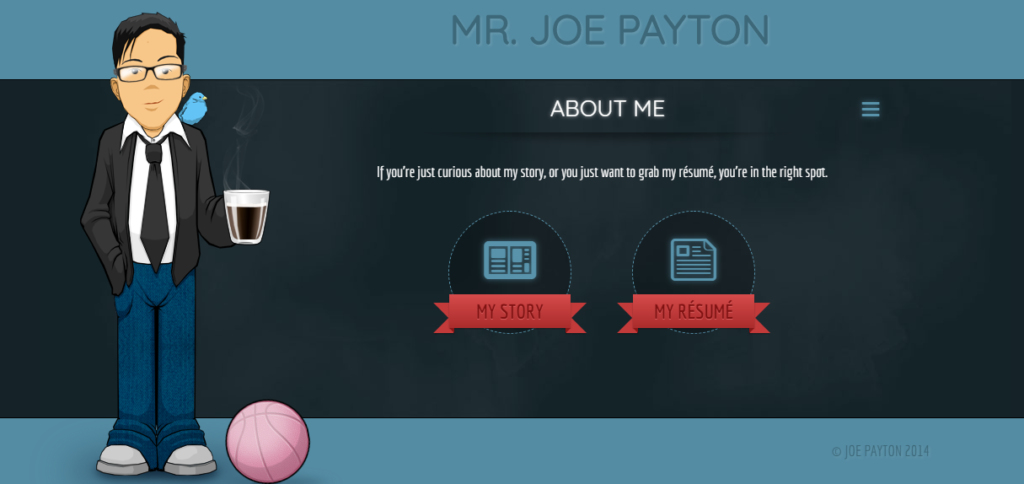 2. Tell what you've mastered
Share something about the problems you can solve. Share some case studies briefly to tell how you have helped people. Don't be afraid of sharing your challenges and failures. It makes your about page real. Know your audience and give them what they would want to read. This will make your about me page conversation-worthy and keep people interested. Check this one – https://www.adhamdannaway.com/about/
3. Consider adding people's reviews about you
A great about me page for a blog or website will have people's support and endorsements. People you have worked with and clients' you have served. Having people's words about you on this page adds more weight and value to what you're offering. Add one or two testimonials just at the right place so it makes an impressive continuation of what you're saying and maintains the flow.
4. Show a glimpse of your life
Showing how a regular day of your life looks like or what you love to do when not working or sharing your team's or family's pictures add life to an about me page. It also shows that you have a happy and inspiring personal life.
5. Suggest Connecting on Social Media
Take your about me page as an opportunity to lay the foundation of your relationship with your visitors. You must share links and information about your social media profiles and pages for people to go there and follow you for current updates, upcoming plans, and fresh information.
Things to Remember When Writing a Professional Bio
You need to ensure that your first paragraph grabs your visitors' attention quickly. Prefer making it personal instead of making it salesy and around your business.
1. First-person vs. the Third person
Many experts including me believe that writing in the third person is usually more formal and may even create some distance between you and your readers. The first person is usually a better approach when writing a bio about yourself because it helps bring your readers closer to you and your business. If you're writing most of your blogposts in first person, consider writing your about me page in first person.
2. The Balance
A lot of bloggers follow 80-20 rule – the 80% of their page talks about industry and work, whereas the remaining 20% talks about fun, personal stuff. You can follow the same, but be sure to maintain the same when you're writing your blogs to maintain some consistency. It conveys your blogging style and builds a rapport among the audience.
3. Make it creative and interesting
Adding humor isn't everybody's cup of tea. If you can, don't miss chance. People stay and stick to something which is different from rest of the world. See if you can make your bio worth their while. Check this creative about me page I personally loved – https://odds-and-ends.net/about/index.html
4. You can write anything about your business
You can give a company timeline highlighting relevant milestones and even share team member profiles to help people trust you and your business. Keep it simple though because no one wants to read about your life story from birth. You can also take advantage of multimedia content – a couple videos and a few images of your behind the business scenes will help personalize your about me page and create a better impact on your readers. Check this out. This is one of the simplest and beautiful about me page examples I found. – https://www.vanityclaire.com/#home"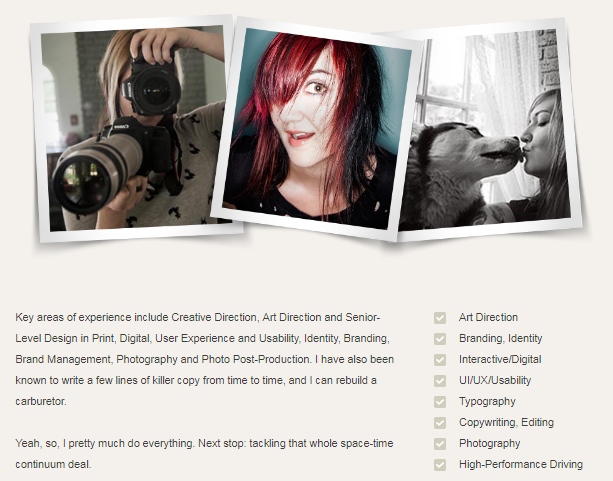 5. Write for Your Target Audience
You cannot write a highly connecting, convincing and professional bio unless you know who you're writing for. Your about me page should establish credibility, and that's possible only when you put your readers above everything else. I loved this piece by Jacob Mcmillen on writing a rich about me page for different audiences
About Me Page Mistakes to Avoid
Okay, now that you know what you should do to make your about me page look interesting and effective, but it is equally important to understand what you should not be doing while writing the corporate about us page.
• Avoid Padding: You don't have to use bombastic words or flowery language to make your bio read great. It may increase the word count, but it will lose its substance. It is a good idea to avoid hyperbole as well. A 4-paragraph page is usually enough to tell it all to your readers. Don't stretch it unnecessarily by sharing your childhood nicknames, stories, favorite foods or something that's not directly related to your industry or blog.
• Don't make it too generic. That's boring!
• Don't brand too much of your expertise. If you do, share a story behind it and what all it took you to that height and credibility.
• Don't Lie: Under no circumstances should you be adding fake numbers whether it is years of experience or customers you served, fabricated awards, accomplishments, titles, or positions on your bio. On the other hand, you should not be modest when it comes to writing about your real accomplishments, including honorary degrees, accolades, titles, and anything else. Writing your about me page is never a challenge when you're writing it with true facts and stats.
If you're a newcomer, take pride to share it. Readers will give you enough space in their heart and mind that you deserve to grow.
Suggested Structure for Best About Me Pages
Although you can make changes as per your style of writing and experience in the industry, you can always stick to the following format for a professional appeal as a starter.
[I changed my about page for its style, voice, and content over 6 times in the last 8 years]
• Start with your name
• Write a summary sentence to introduce you and your offering
• Follow up with a bit of story of your business or blog – how the idea came into existence
• Write about your serious credentials
• Write something personal and playful to keep readers interested
• Write about your ambitions and future plans
• Invite people to your social networks
The crux of the matter is that your bio or about page will go a long way in building trust and increasing conversions. Your about page is your chance to connect with your audience in a more intimate way. You can personalize it with your life story, but be sure to know where to draw the line. If you landed on this post searching how to write a good about me page for your blog or website – Just keep above-mentioned points in mind and it will all fall into place.
Remember, your about page works like an influencer to your readers in helping them take their decisions – of subscribing to you, coming back, sharing your blog with their network, bookmarking it for future read or even buying from you.
If you want more help in writing or editing your bio or about me page, share it in comments. I will be happy to review it.
All the best