I write fairly well, generally error-free, but I am certainly not a great writer with flawless writing yet. I have my editor who fixes my structural and grammatical errors while keeping my personal style intact. I was wondering if I could have one of the best online grammar checker and proofreading tools great enough to spot my grammatical mistakes, structural errors, punctuations and even typos that I might have overlooked.
Before I (and you) feel embarrassed because of those silly typos and grammatical issues in your daily communication and web content, let me share a tool that can prove to be your regular proofreader. It is – Grammarly. Good news! You can use free Grammarly chrome extension to test this online grammar checker.
If you are a writer or a blogger, you might have heard of it already. If not, get ready to communicate and convert your readers and receivers with a flawless and neat text with this online proofreader that goes beyond just spell-check.
Let me share my experience and personal take on the claims Grammarly makes.

[themify_box ]
Grammarly makes you a better writer by finding and correcting up to 10 times more mistakes than your word processor.
It does highlight the grammar and sentence mistakes that most of us overlook because of the personal writing styles or habits.
Instantly fix over 250 types of errors, most of which Microsoft Word® can't find.
Grammarly spots the errors and suggests the better word alternatives to avoid repetition. However, you may want to use your wit, style preference, and relevance to use the recommended options. Some of them may not be suitable looking at the context and sentiments expressed in the text.
[/themify_box]
What did I love about Grammarly?
It backs you up everywhere. Whether you are writing emails, essays, or social media posts, Grammarly will keep a check and raises an alert when you make a mistake. This is of great use and relevance since most of us type and write in a rush, especially for social media posts and comments.
Moreover, you can download the original text document in case you want to compare or lost it.
What is intricate text in Grammarly?
Intricate means complicate. Intricate text is difficult to interpret. The text can be short like a slang, concise and crisp yet difficult to comprehend.
When Grammarly indicates an intricate text, you better rephrase it or use the alternate texts Grammarly suggests.
What happens if we don't change?
Watch your bounce rate and readers leaving your website the moment they are struck at an intricate text.
Free vs. Grammarly Premium Version
Premium version helps you identify more and intricate text grammar errors than the free version.
Gives details of each error along with suggestions just like one best grammar check at your service
Shows you confused prepositions, overuse of the passive voice, and wordy sentences. Where it helps you trim down the wordiness, it offers little help to fix your passive sentences. No doubt, this is an editor's work, not a proofreader.
It spots the sentence fragments and passive voice in the text but doesn't give much of the help. The writer would have done their best already so this suggestion makes them look for an editor. We may not probably expect such intelligence from the tool. If it comes in the future versions of Grammarly, it is indeed an excellent USP over other online proofreading tools.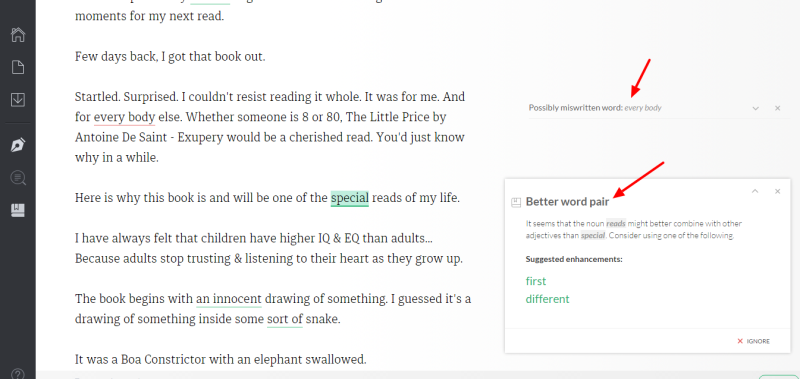 Grammarly Proofreading Price
Try Grammarly for a $29 per month subscription. They have a decent discount on their quarterly and yearly subscription to make it as low as $12 per month. My reputation surely worth more than $12 so I was an instant Go for this premium grammar and sentence tool.
How Grammarly works?
Log in (And stay logged in)
Open a new document and paste the text you want to proof-read
Let it scan your content for 2-3 seconds and it will highlight the errors to fix
Alternatively, you can install Grammarly extension in your web browser or use MS-word plugin. I love scanning my work online so I preferred using chrome and online proofing.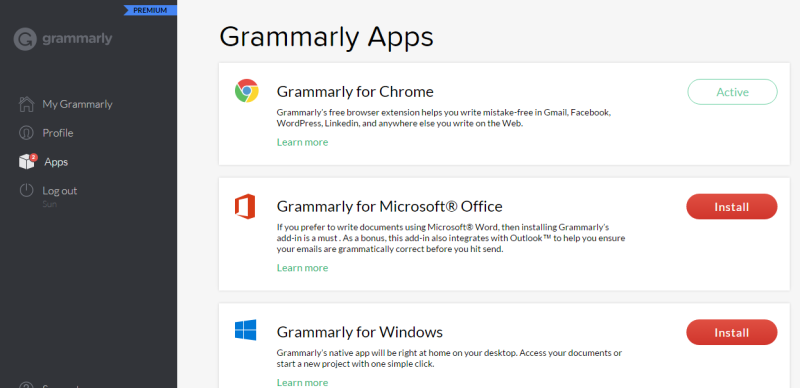 How it made me a better writer
I am conscious about the overuse of "and" in my writing now. It is crisp and easier to read now.
I use lesser "Buts"
I am more confident because Grammarly could not spot as many errors I was expecting. There's is a push at the back of my mind to make it as error-free as possible. You can call it a personal reward I started giving myself only after using Grammarly grammar checker.
What else Grammarly Assists With
Different Writing Styles: If you handle multiple writing styles and types such as conversational, formal, academic and so on, it can support you with formal or informal tone. I didn't find much difference except Grammarly insists on replacing the contraction in some styles. Its sentence checker tool comes handy in these cases. For example; Haven't to Have not, Didn't to Did not. I dismissed the suggestions as I find contractions softer in communication.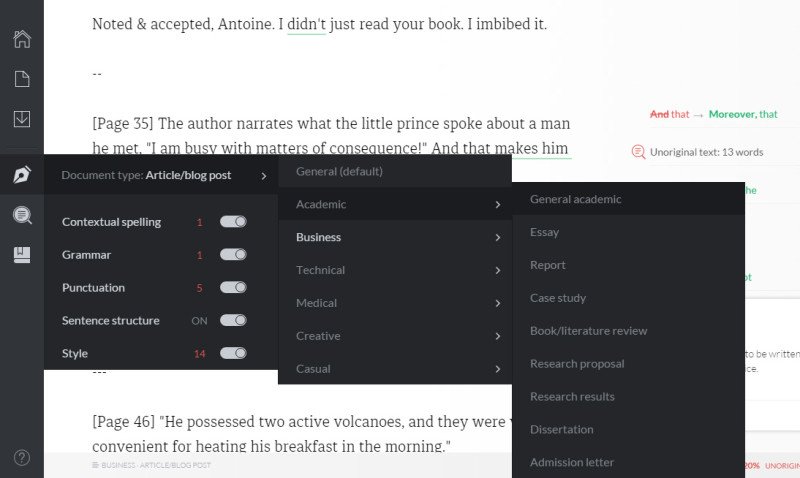 Checks your text for plagiarism: Does a fair job and one can rely upon as it checks your text against over 8 billion web pages.
How to Refer Grammarly with Free Resources
The big question? Can Grammarly replace the human proofreading?
Answer is – No
Grammarly proofreader is a smart tool that understands text and rules of grammar. It does not understand the context of stories like a human proofreader can.
Good news – You can avail Grammarly human proofreading service on request and it is available with premium plans. We have seen mixed reviews for their human proofreading service. The service quality depends upon the ease of text, industry and writing style.
The only serious con I realized was no way to review US/UK English spelling. The price is slightly higher for those who write less and still may want to use Grammarly. They may introduce a limited word count version of Grammarly for these users.
Do I recommend it?
Yes – You must try. Begin with their free chrome extension.
Grammarly is one of the best English grammar checker tools online to use even when you have a strong command of English and can review your work after Grammarly proofreading. For more important jobs like a novel, longer stories, books, I recommend hiring a human proofreader. You should use their free version to see the scope of improvement.
For non-native English speakers, this is a blessing. Go ahead and buy.
To conclude, this tool may not be a must-have for every writer and blogger but indeed, a useful and handy proofreader to save your time and reputation when you are in a rush and needs a quick online review. Just think "Check my grammar" and it does the job like a Ginnie!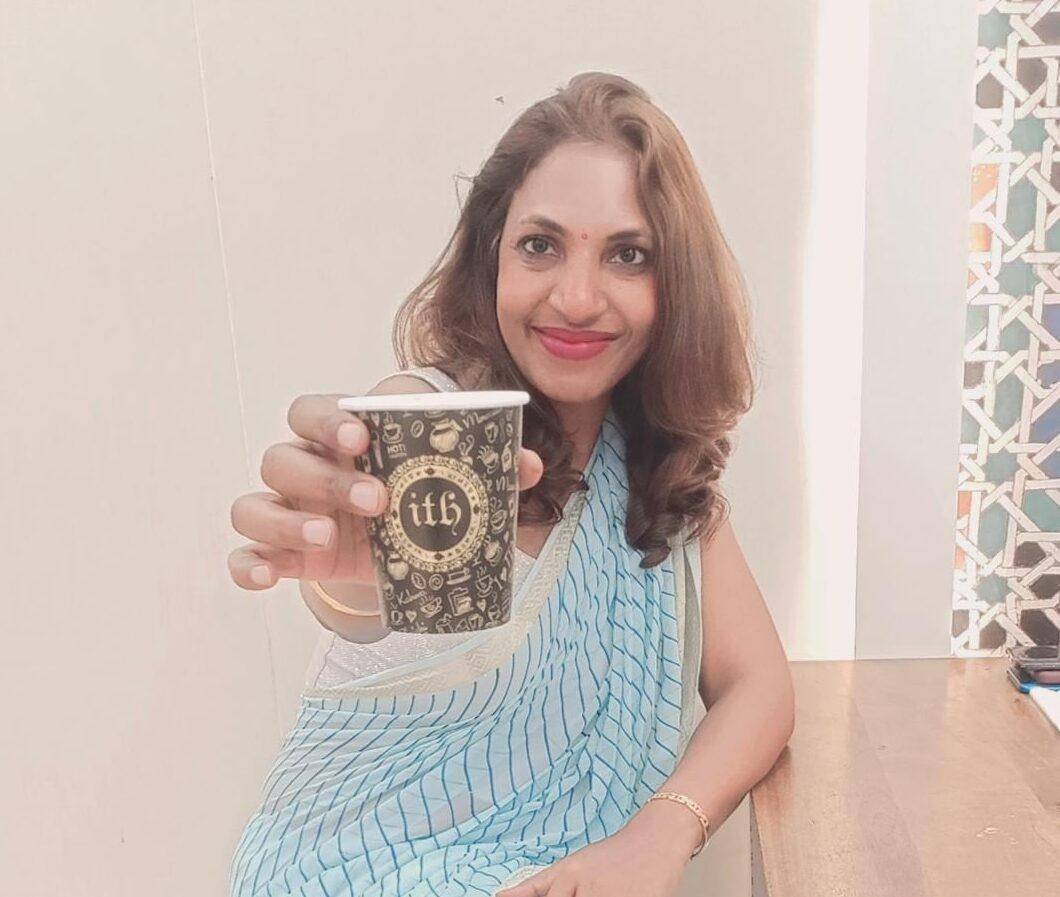 Sunita Biddu is a digital business coach and power blogging mentor helping coaches and small business owners. She helps with building a strong and profitable online presence and reputation that creates a self-sustaining business.  Sunita writes on this blog once a week about easy-to-use guides and articles about business, coaching, social media and blogging. You can grab some of her free resources and ebooks from the resources section.