One of the most powerful ecommerce website essentials to more sales is to make it EASY to buy from you. Without getting into any formal introductions, let's get to the point. They are not supposed to figure out where to click and how to buy. It should be prominent, evident, guided and intuitive throughout their shopping on your site. Keeping the final checkout in as few as possible clicks increases the chances of more sales. Here is how you can help them make it easier and hassle-free.
1. Tell Them What's Next
As they continue shopping or checkout, help them with next action steps and notes on every page. Make sure the next step looks more important and prominent than other clickable links on the current page. Presume the user may be shopping for the first time and I promise, even a smart regular shopper would love this assistance. Men's exclusive wear site ThGstreet does it well right on their homepage.
2. Don't Give Too Many Options
Giving a lot of options may leave the buyer in confusion and chances are higher they may end up buying nothing. Minimize the product range with smart filters so they can get their best one without spending too much time in scrolling and thinking. Filters such price range, latest arrivals and colors are most popular among users.
Note: While filters make choices easier, make sure the filters are placed in a search engine friendly manner.
3. Keep Order Forms as Short as Possible
The best answer to quickest buying is one page checkout that makes the user feel easier with order placing in one go. Keep the fields as few as possible. Tracking how your forms are working and where people drop out lets you create better order and sign up forms. Consider adding Facebook sign up option. Avoid any field that isn't absolutely necessary to get the order delivered. Keep some prominent optional fields such as special note if any.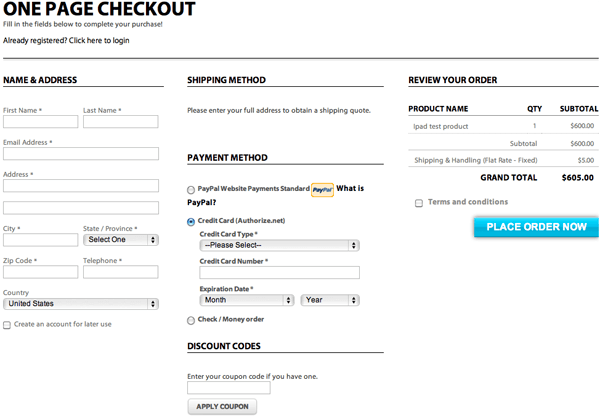 4. Let Them Check Out As Guest
Most of the buyers wouldn't like to sign up. They quickly want to place the order with filling in address fields and making payment. I personally belong to that category. Where forcing people to sign up in order to buy may leave you with several lost yet almost converted buyers, giving them benefits of signing up can influence them to signup. It generally works for regular buyers with bigger shopping carts. Here is one example by ShopClues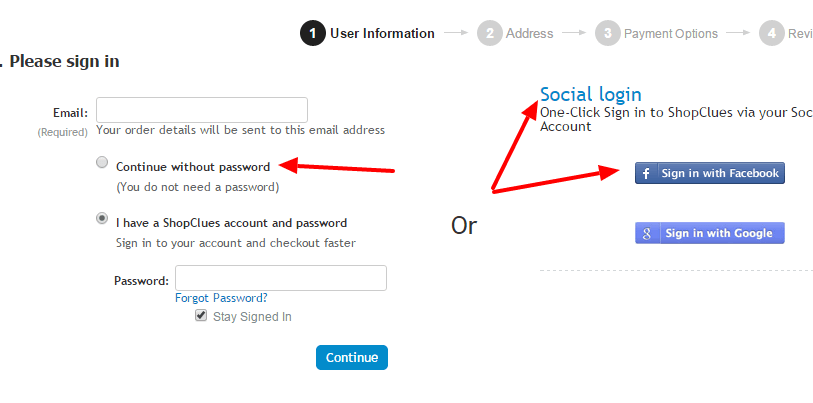 5. Cash on Delivery Rocks
Where Cash on Delivery option is slightly risky for the seller, it has proven to influence the buying decision by over 50 percent. This especially works better for new brands.
6. Offer Free Shipping
Shipping can be compared to transportation pain and cost the user will have when going for shopping in real. This is the reason Free shipping is seen one of the biggest motivators for online buyers and gives a clear edge over other competitors. Unless this is International order delivery, consider keeping free shipping option. Amazon has done it beautifully keeping free shipping above certain order value.

7. Free Gifts
Users feel thrilled and surprised on getting more value for their money when offered a free gift on their shopping. Track what's the average order value on your site and place a free gift on that value. You can also promote discount coupon codes to surprise them. Anything that gives an instant gratification and value will increase the buying rate big time.
Note: Make sure you notify about free gifts at the right place while the user is shopping instead of asking them to make a choice or notify of the free gift on checkout. It may rather shock and change their mind.
So what changes you're going to make in your ecommerce store? Share in comments.
If you facing troubles with no or poor sales on your ecommerce site, I would love to analyse and share some insights. Feel free to drop in the details at hello@sunitabiddu.com Let's make it large.