To make money, you need users and buyers.
To get noticed, you need an audience to get exposed to.
To build relationships, you need like-minded (ad unlike-minded) people to talk to.
No wonder why social media built an addiction over time among us. It gave almost everything one wanted. For now, let's keep it to money, brand and business.
Sосіаl media nеtwоrkѕ hаvе proved to be the easiest medium to promote anything – from people, products, personalities, services or even emotions. Everything gets a response because there is some audience hanging out on one or more social network for everything.
Since, it's not realistic to hop around multiple social networks and figure out what works, choosing the right social media platform for your business will deliver the maxium returns.
Despite having a huge user base, not every social media network gives desired results. It's important to evaluate different tools and channels for social media for business use before you settle on one or a few. Consider these five selected factors to help you choose the best ѕосіаl mеdіа nеtwоrk for your goals.
Amount of traffic you can expect
Each social network has millions of users and active prospects. Begin with identifying the network where the audience is attentive to your industry. For example, if your products are visual such as designer clothing, furnishing, art etc., Facebook, Pinterest, Instagram are platforms to try. You must consider the active user base, however, a relevant audience to your industry is more important.
If your content is useful, powerful, consistent and unique, you can claim a substantial amount of traffic from a social network.
I borrowed this cool infographic from vendeve.com to help you find the best social media platform for marketing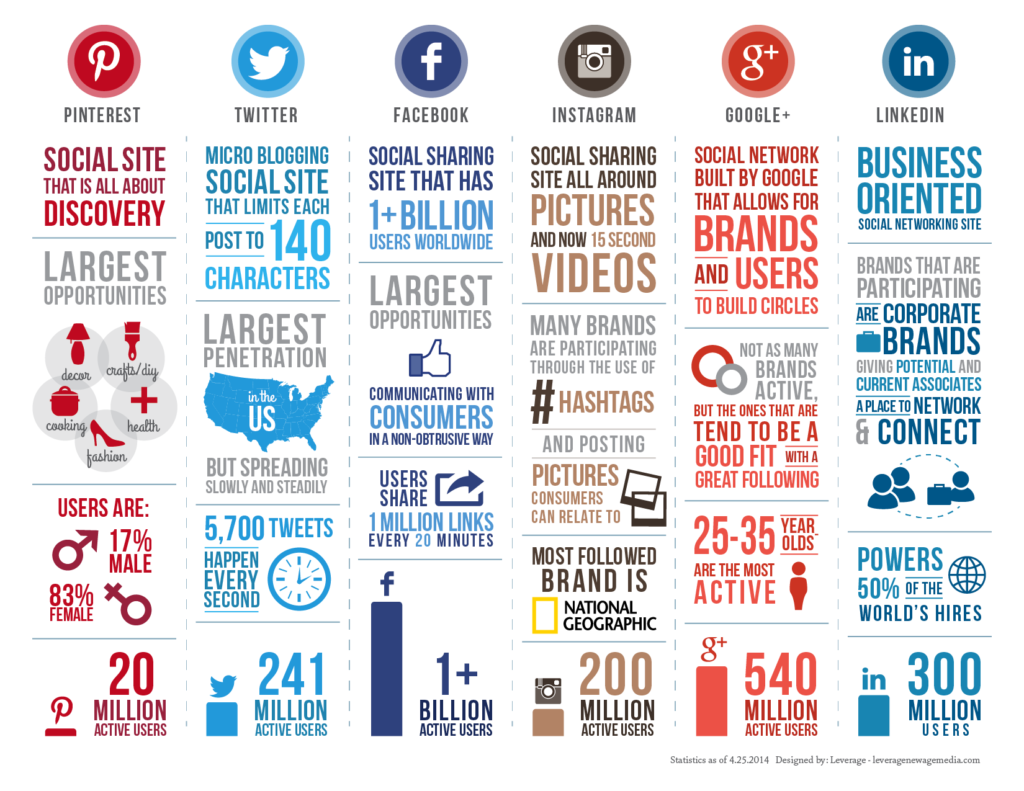 2. What will be the conversion rate
Anоthеr fасtоr you should соnѕіdеr іѕ the соnvеrѕіоn rаtе оf thе social mеdіа nеtwоrk you hаvе dесіdе to uѕе fоr your business and personal goals.  Conversion may mean more inquiries, more calls, questions related to certain product or service, questions about what you do and how you help people professionally etc.
Once you decide what conversion you're looking for, the next step to compare the social networks for this type of conversion.
Rate of conversion usually depends upon seven major factors:
a) The social network
Choose your social network based upon the location and audience type. For example, you're selling local and your product belongs to a visual industry such as clothing, jewels and accessories, cosmetics, you can prefer Instagram, Pinterest and Facebook over other channels.
b) Your product/service
The quality and features of your make a big difference. A product rich with several benefits to the users and backed with happy users will grab more attention despite being new in the market.
c) Quality, clarity and intensity of content presentation on social media
An outstanding product with poor presentation may fail to attract prospects. It will not only lose buyers and time but also lose its brand's first impression.
[tweetherder]Invest well in creating content to talk about your product. Make it textually sharp and visually attractive. #sunitabiddu #socialmedia[/tweetherder]
d) Pricing vs. Value
Social media has all kinds of buyers as active users and it can sell anything starting from cents to things worth million dollars. Question is – does your product clearly conveys the value?
Utilize online media to get exposed to a bigger audience of impulsive buyers who is eager to see what's new and better in the market. Show what difference your product will bring to their life or routine. Emphasize on the value and they will keep the price at second priority.
e) Need of the particular product/service you're selling
You will face two circumstances. Either there is a need of the product or you will have to create the need. The first scenario would demand a great deal of presentation and promotion whereas the second would need a substantial amount of time, patience, content along with a powerful strategy to create awareness to educate the audience about need and value.
Remember, if they need it, they will come looking for it. How you can use social media is – to stay on top of their mind so you're the one right when they need it. It is important to choose the network where the audience is already talking about the need.
The network will convert more where people are asking questions and searching about the services and products they're looking for.
f) Credibility
Credibility tops the factors when it comes to conversion. Even if the product or the brand is new in the market, if it can manage to earn few happy users or brand advocates, people are likely to try the brand. You can add credibility with the following:
Happy users talking about their experience
Proof of excellence so they can visualize the experience before actual experience
Celebrity and relevant industry associations – For example, fashion brands and companies typically benefit from being associated with celebrities, stylists, fashion bloggers, models and fashion designers.
Accreditations, trust badges, recognitions and awards
Once you understand what would influences your visitors, then you should spend more time, money and resources acquiring those things.
3. Fоllоwеrѕ vs. Engаgеmеnt
[tweetherder]When it comes to number of followers vs. engagement while choosing social networks, prefer the one with more engagement.[/tweetherder]
You are looking for more actions from your audience rather than just number (of followers) parked to your brand name. The social network where people are already interacting on interesting content and conversation is likely to deliver more returns on your investment of time, money and effort. It certainly depends upon how intriguing is your content.
For example, twitter receives comparatively more comments and questions in terms of active engagement as compared to Facebook that receives more likes.
4. Cuѕtоmеrѕ' Preferences
Before choosing the best performing social network for your brand, identifying your customers' preferences can give you great insights. How much time they spend online, whether they're visual people or textual kind, their lifestyle, and their level of interactions with brands.
Not only you can use customers' preferences to decide upon the right social network but also you can get several insights about their need and how you can use it to improve your product and marketing strategy.
More than attention from your prospects, you want them to take actions.
Social networks are similar to focus groups because they fosters community and allows people to build upon one another's ideas. In social networks, a brand can:
Poll the audience about their preferences and opinions
Post video that simulates response about a product or brand experience
Pose questions in a forum or chat environment
Create a contest
Interestingly, the amount of response will help you decide if a particular social network is worth your long term marketing strategy or not.
What you should do now
If you are serious about investing your money and time in the right social network, you should keep these four factors in mind, spend good time in data analysis with the help of your team members and an experienced strategist, and focus on one or two social networks to get the maximum returns.
Are you planning to start your social media marketing or in the mid of deciding one, ask me any questions in comments or in private and I will be glad to answer you.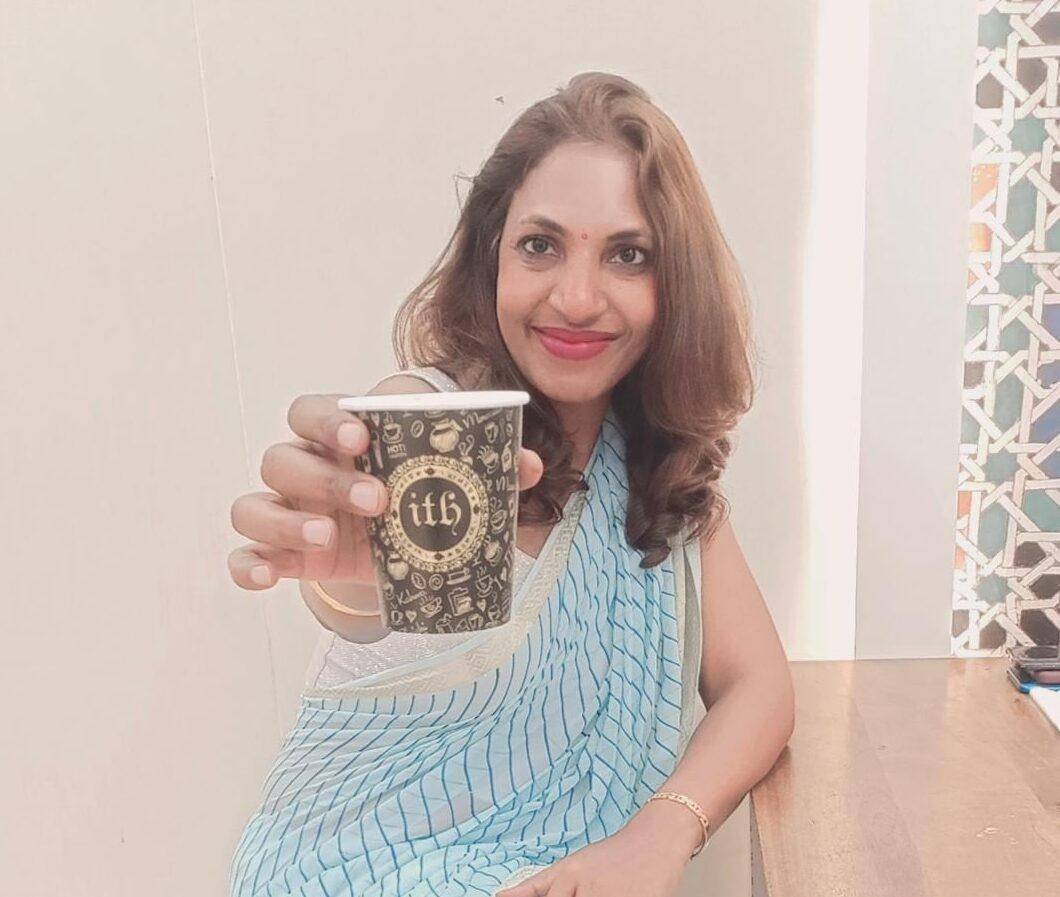 Sunita Biddu is a digital business coach and power blogging mentor helping coaches and small business owners. She helps with building a strong and profitable online presence and reputation that creates a self-sustaining business.  Sunita writes on this blog once a week about easy-to-use guides and articles about business, coaching, social media and blogging. You can grab some of her free resources and ebooks from the resources section.