Every blogger's dream – Finding their blog ranked on page 1, loaded analytics with thousands of visitors every day with perfect blog SEO.
This leads to more subscribers, more money and of course more joy for deciding to be a blogger.
What if I tell you – this dream is the easiest to come true.
You only need to follow this simple On page Blog SEO Optimization checklist to optimize your blogpost every time you write and publish a post.
There are two parts to SEO: Off-page and on-page.
Off-page refers to building backlinks pointing to your blog. This is a time taking and effort-intensive task.
And on-page means optimizing each page and post of your blog and website for the targeted keywords, the right layout, speed and to improve the readership so not just search engines but real readers love your blog.
At the end of this post, I will show how a great on-page SEO can get powerful off-page and backlink building done for your blog without you doing anything.
You'd love the result when you learn how to optimize a blog post for seo and follow this learning and steps for every post. This on page blog seo optimization checklist is the answer to every "how to improve blog seo" question I receive. Taking care of your blog's on-page SEO means 80% of the SEO done.
Don't forget to download your seo checklist pdf at the end of the post.
Let's start!
1. Perform a keyword research
Great blog SEO begins with optimization and optimization begins with having the most relevant keywords to optimize your post. I usually prefer and suggest doing keyword research and content brainstorming for a least 15 posts in advance.
It can be time-consuming and can lead to demotivation for blogging over a time when you do it every time just before you write a post.
I love using Twinword.com, Google keyword planner tool, Soovle.com and Google suggest to do keyword research. You can find one focus keyword and up to 7 related/secondary long-tail keyphrases for each blogpost.

Pro Tip: Use LSI for optimization. Latent Semantic Indexing (LSI) refers to the strategy of diversifying your keyword usage within a single web page. Search engines use as a relevancy signal to improve your content ranking. This involves using words with similar content and meaning. For example, some users may search with "Blog SEO Copywriting Tips" and some may search with "Blog SEO Copywriting Best Practices". Some will search with "best sport shoes" and some will search, "smart sport shoes". The context is the same.
Additionally, I use Google search console to find the exact keyphrases my audience is looking for. It helps me find topics for the new posts and optimize the existing posts with keywords I can rank better on.

2. Use Focus Keyword in Your Post Headline
Your headline is the door to your blog. It has to be irresistible, useful and inviting. Having the exact focus keyword in the headline doesn't just enhance your Onpage blog SEO but can make this headline attract 50% more clicks from your readers. It is easier to accommodate a shorter focused keyphrase in the headline but try your best to come up with many variations of the headline with your exact focused keyphrase.
Example: The focus keyword for this post is "On page Blog SEO Checklist" and you will notice it in the headline.
Super Tip: Edit your blog permaink/url to a concise url with focus keyphrase in it. Notice the url of this very blogpost and you'll get the clue. Editing your blogpost url makes it search engine friendly and helps your post gets slightly higher priority in search engine indexing and ranking. If you don't edit, your blog will pick up the default url of the complete post title.
3. Spread Your Focused Keyword Well Throughout the Content
Use this no-brainer irrespective of your blogposts wordcount.
Place the focused keyword in the first 15 words of your post. This helps your blog post gets ranked faster and higher because of the relevancy factor.
Place it in the last 20 words of your post
Place it once somewhere middle of the content
If the post is longer than 600 words, place it twice in the middle of the post
Do this keyword accommodation after you have written the entire post with a free-flow writing. Starting to write around and for the keywords can compromise your content quality and flow.
[download_after_email id=75400]
4. Use Each Related Keyword Once in the Content
Each blog post may have 5-10 related long-tail keywords. In technical terms, this is called LSI as shared earlier in this post.
Use each related keywords once in the content where they appear and read the most relevant and natural. Spread these keywords like seasoning on the pizza. Use as many related keywords. They help your blogpost rank quickly and bring more related keyphrases in search console data.
Super-Tip: Yoast SEO Premium Version gives option to add 5 related keyphrases and synoyms (in total 10) to optimize your blogpost even better.
5. Maximize Header Tags  with Related Keywords 
Content that is broken down into sections is a lot easier to read and digest not only by humans, but it makes it easier for search engine crawlers to digest, index, and rank content.
Notice how these numbered on-page points stand out as you're reading? I have used H2 tag here.
Make sure your content is broken down into sections that are partitioned by keyword-optimized header tags. By header tags, we mean the <H1>, <H2>, <H3>… <Hn> tags used to format blocks of text to make them larger and bolder for greater emphasis and visual impact. (I recommend using <H1>, H2 and <H3> tags for maximum effect.
Split up your content in many short paragraphs (3-4 sentences per paragraph) under multiple subheadings. This not only gives your blogpost an easier and attractive presentation but also allows you to optimize your blogpost for your focus keyword and related keywords in these subheadings.
When your readers skim through these subheadings, they find your blogpost more relevant and useful even without reading it all.
6. Use Focus Keyword to Label Your Images
Ditch those DSCo8659 or hgtypebgsyyt.jpeg default labels when you download the images from web.
Rename your images with the targeted keyphrases.
Prefer renaming your primary/featured image with focus keyword and rest of the images with related keywords.
7. Use Related Keywords in Image Details
Use your focus or related keywords in the Title and alt-tag of each image. This small step can make a huge difference in your content ranking not only on the web but on the Image search.
8. Use Keywords in Your SEO Meta Details
How well you write your blogpost's meta details decides the CTR and ranking of your post in search. Place your focus keyword in the Title field once and use it in your meta description along with one of the related keywords. Do not leave your focus keyword field empty. Place your focus keyword in the field.
I strongly recommend paid version of YoastSEO to utilize the related keywords at its best and improve the rankings for multiple keyphrases by almost 200%. No surprise, it's one of the best Onpage blog SEO tools among bloggers.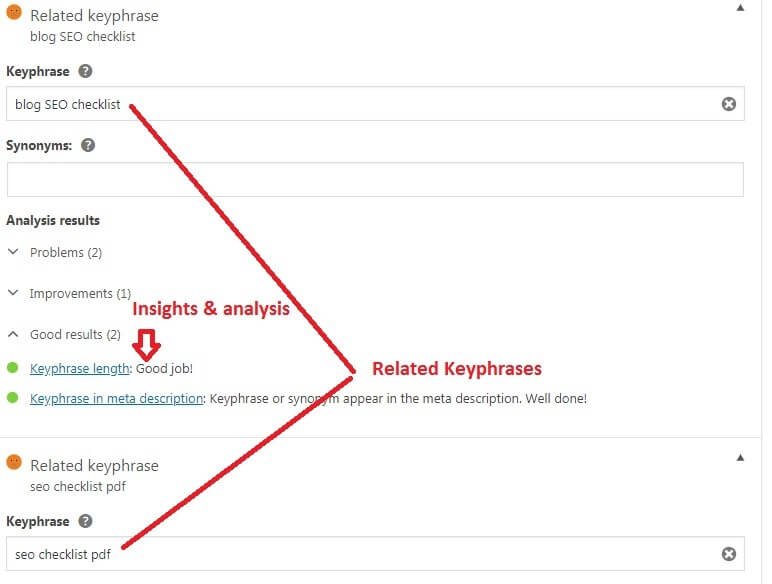 As informed earlier in this post, you can use up to 5 different related keyphrases & synonyms with the paid version of Yoast SEO plugin and eventually the traffic improves multi-fold when your new blog posts start to rank on several target keywords at the same time instead of just one focus keyword.
Note: Make sure you write catchy meta details within the character limit. of 220 characters for description and 60 characters for title to avoid encryption.
9. Add Multiple Internal Links with Anchor Text
Using internal links to connect your old related posts do more than what we expect.
It drives traffic, link juice and page authority to your old posts
It improves the bounce rate and users' stay on your blog
It builds more trust and credibility as readers see more of your useful content
It improves your ranking
It also signals to the search engines that your site is being updated with fresh content, which promotes more frequent crawling and regular traffic.
Use the related or focus keyword as your anchor text to interlink the posts. It works as the subtle most blog SEO optimization tactic.
10. Link Out To External Posts & Authority Websites
One of the greatest SEO myths is that linking out to other websites somehow devalues your own site's page rank and authority. However, the truth is that search engines favor outbound links, especially if those links are to other sites that are relevant, and are of higher authority. Why?
Because this sends a signal to Google that your website is aimed at delivering value to your readers. And if you include a link to a valuable site from yours, Google believes your site should be rewarded for it.
Consider linking out to 1-2 useful and authority resources in your post. Ensure that they do not look forced and add value to the overall content.
Super-tip – Always open the links in the new tab. This is an additional step you're recommended to do every time you build a hyperlink. Not doing this can take your reader away from the current post.
11. Optimize for Social Sharing
You have got many plugins and modules these days to place little tweetables, pinterest pins and sharable clips on several social networks. Enable your blog so your readers find it super-easy to share. Consider using the floating social share bar and in-content share tools to improve social sharing.
12. Optimize Images for faster page loading
When Google crawls your website, one of the metrics it gathers is the speed at which your pages load.
Compress your images to the lowest best resolution, especially when you're using multiple images and videos. Unless your blog is using dedicated hosting to handle videos, consider using third party hosts like Vimeo, Youtube, etc, to host your videos.
Prefer jpeg over png.
Use images less than 700 pixels.
The loading speed determines the ranking of your post.
And to make life easier for users of WordPress, there are even plugins that will automate the job of optimizing your images for maximum performance:
WP Smush It – compresses and converts images into formats that take up less of a footprint, thus improving image load times.
CW Image Optimizer – Based on WP Smush It, but does the conversion locally as opposed to at a third party site.
13. Lastly, Write Simple
Write simple keeping in mind a 6th grader for your reader. The simpler you write, the easier they find, the more posts they explore, the longer they stay, the better is the bounce rate and eventually influences your blog ranking.
This was all from me. This onpage checklist has helped me rank most of my blogposts on page 1 as soon as 1 week for most of the keywords.
How following this on page seo checklist will help building backlinks for off page SEO?
I promised I will share how onpage helps getting backlinks without you approaching for backlinks.
It is SIMPLE.
When your blogposts start ranking after following this SEO optimization checklist religiously for every blogpost, advertisers and PR teams start finding your posts and they start approaching you for a backlink on your blog. You can choose to do a link exchange. Usually, the sites offered for link exchange are good and with 30+ DA.
I get 5-10 high quality backlinks coming to my site, effortlessly every month.
I would love to hear how you found this on page seo checklist. Have you got more to add to the list from your experience? Or got any questions? Don't hold, just ask in comments.
Happy Blogging. Happy Ranking.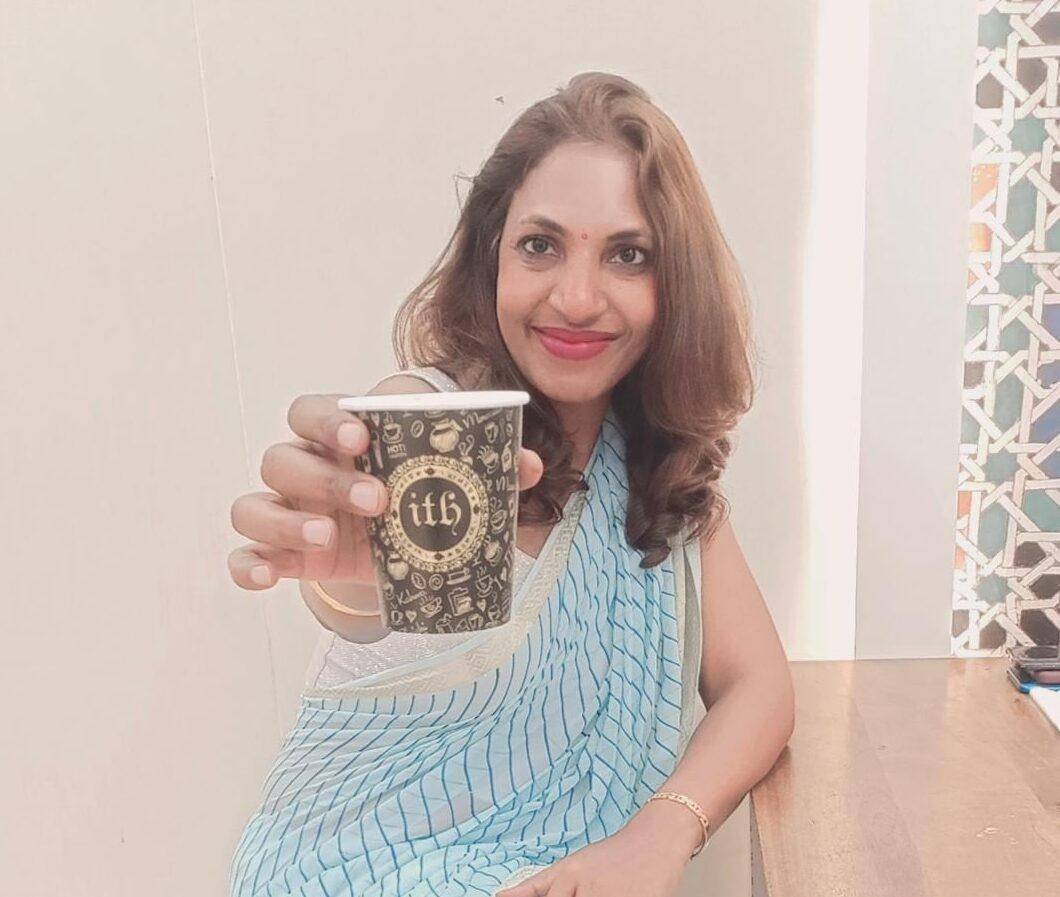 Sunita Biddu is a digital business coach and power blogging mentor helping coaches and small business owners. She helps with building a strong and profitable online presence and reputation that creates a self-sustaining business.  Sunita writes on this blog once a week about easy-to-use guides and articles about business, coaching, social media and blogging. You can grab some of her free resources and ebooks from the resources section.