Half the world is on social media. That's over 3.7 billion active social media users. And everyone is a prospect and buyer to one or the other business.
Creating a social media strategy and a powerful social media action plan with sharp goals & execution can drive hundreds of new customers every day and improve the revenues for any business.
So, what is a social media strategy?
Social media marketing strategy plan is a rundown of all that you intend to do and would like to accomplish via social media. It manages your social media content marketing activities, posting schedules, social media advertising, influencer marketing, investment in tools, setting up the budget and tells you whether you're succeeding or coming up short. Each post, answer, advertisement, and remark should fill a need and goal.
The more explicit your social media campaign strategy plan is, the more powerful the execution will be.
The key is in keeping it compact.
Why Your Business Needs A Social Media Strategy
Before we discuss how to create a social media strategy, it's important to know what it can do for you.
A good social media strategy showcases your business' objectives and sets quantifiable targets for the ideal results.
Now, what are the advantages?
1.      Social media marketing isn't optional anymore. It serves every brand and it has become the primary route for organizations and entrepreneurs to reach buyers with comparatively minimum investments and faster returns.
2.      Social Media isn't just a medium; it's a FAST medium. If your brand establishes a favorable image in the market, the news spreads fast. One happy customer has the potential to bring 10 new prospects within 24 hours if simply leaves a review on social media.
3.      You have a clear idea and track of efforts, financial investments, and returns.
4.      You'll know when to change or drop any element of your social media marketing strategy.
The more you wait, the more you lose.
In any case, the MAJOR key to creating a social media strategy plan is to ensure your strategy is both – actionable and profitable.
What all you need to develop a social media strategy
You need the game plan and you need to prepare for it. I am sharing a few essentials you need to review before you build your business social media campaign strategy or hire a social media strategist to do it for you.
1. A Ready To Promote Product, Service Or Brand
Before you begin creating your social media strategy and action plan, make sure that your product is ready to face the market. Answer these questions and if the answer is yes to all, move to the next essential.
Is your product sellable? Do you have the demand in the market or you need to work on an additional step of educating your target audience?
Have you tested your product for all flaws and quality standards?
Have you prepared appropriate answers and scripts to the objections, concerns, questions about your product your target prospects and audience may ask?
Have you made sure that this is the best pricing to introduce to the market? Do you have something exclusive or complementary or extremely irresistible along with your product to launch on social media?
Have you managed to collect some reviews or pro-bono user experiences to support your product launch?
Getting a yes to all? We're good to go!
2. Knowledgeable Workforce
Make sure that you either have a trained social media team (in-house or outsourced) to execute the social media plan or you have a trainable and competent team that you can get trained by a social media coach as you implement the strategy.
You'll need these professionals in your basic workforce
Social media manager (This is recommended only for a big a brand. A smart startup can be managed by an experienced and qualified social media executive single-handedly)
Graphic designer
Copywriter
Video Editor (Recommended to be outsourced to save cost)
Finding a single resource who can take care of your social media management capable of writing compelling copies and creating outstanding graphics is rare. However, you're lucky if you find one. Thanks to the tools like Canva, a good copywriter can be very well trained to be an efficient social media manager.
If you want to save costs, find someone from your team or outside with great writing skills and an interest in building a strong career in social media. You'll save the cost of 4 people.
Note that it is only viable for a small startup or a personal brand management.
3. Right Social Media Tools
Tools will save you hours of manual hard work. Don't even think about social media marketing without using tools.
You will not save money by not buying tools, you'll lose it.
Social Media Management & Scheduling Tools – This will help you schedule your content for the right time months ahead and to track what's working and what needs to be modified. I recommended (after personally testing and comparing)
Note that there are network-specific tools available such as tweetdeck for Twitter, tailwind for Pinterest & Instagram and so on.. Do your research or take advice from a social media coach to equip yourself well.
Check this list of over 500 social media tools to choose from
Google Analytics – You will have social media analytics, however, I strongly suggest having two analyses to make the best of your data and insights. You'll utilize this to accumulate information on your social media referral traffic to discover where your prospects are generally active on the website.
4. Sufficient Budget And Backup for Minimum Six Months
It usually takes minimum six months for a good social media plan before you begin to see significant engagement converting into paying customers.
The process is
Building awareness > creating likeability > establish trust and credibility > Converting followers into customers

Keep your budget and team prepared for minimum six months. Usually, I suggest a budget of $1000 per month to be able to see the returns up to $10000 every month with a powerful social media campaign strategy implemented equally well.
How To Create The Right Strategy in 7 Steps
The purpose of this blogpost is answer your query – how to create a social media strategy that BRINGS MORE PROSPECTS. And nothing works better than having a step by step process and action plan. Do remember to download your free social media strategy template at the end of this post.
Let's do it!
Find The Right Social Media Platform
Your strategy will return profits only if it is executed on the right social networks. There are many including 4 major social networks – Facebook, Linkedin, Instagram, Youtube and Twitter. Each network requires a good amount of creative input and monetary investment. It makes sense to stay focused and work with minimum and most profitable social media networks for your business.
This is how you select the right social network for your business goals.
1.    Identify Your Target Audience
Do you know your target audience? What platforms are they investing the majority of their time? When they are on these platforms, what are they looking at most of the time? What influences them the most? What annoys them the most? What makes them happy? Take a look at the vital socioeconomics, for example, gender, location, income status, relationship status, educational background, interest etc.
You may likewise want to refer to the platforms your competitors have effectively captured their audience.
The following infographic should help you decide the right social media network.
2. Create Target Audience Persona
You'll be able to create advertising and content marketing campaigns with higher returns when you build them for a specific audience you clearly know.
Imagine yourself as a host expecting guests over. Don't you think your guests will be delighted if you cook the meals of their choice and liking? This is possible only when you made an effort to know their choice.
Having persona built for your audience will help you create the sharpest content that will convert and get attention from most of your audience, eventually, leading to faster-than-expected returns.
Use the following template to create personas.
Keep in the mind the following things for a more effective exercise
Build a minimum 3 persona and maximum 6 for each audience
Include at least 7 essential information from the given template.
Use this information in creating content and promotion campaigns. Observe and track the performance on a weekly basis.
Make necessary changes in your client persona and feel free to remove a persona if it is not performing.
3. Perform Competition Research
Other than analyzing what's working well with your competitors' social media marketing campaign activities, this exercise will assist you with spotting significant openings. For instance, one of your competitor is dominating on Facebook, with little or no active presence on Instagram. It makes sense to utilize the opportunity where your prospects are underserved instead of focusing on winning fans from a winning player.
The better approach is to concentrate on at most two platforms— close to what you sensibly have the opportunity to keep updated. This will give you additional time and thoughtfulness regarding truly develop your fans on those channels and connect with the individuals who interact with and follow your business.
2. Set Smart Goals & Objectives
Have you figured your social media objectives? Your choice of goals decides your returns and how much time it will take.
Is it to create brand awareness?
Do you have to improve customer service?
Are you planning to use social media to get more new customers?
Is the plan to build brand loyalty?
Or you want to attract influencers?
Do you plan to get website traffic from social media?
Or is it casual market research and get consumer's insights?
Note: If you already have a social media strategy in place and marketing your brand for a while, I suggest you to start with an audit and review the high-return areas and identify the holes in your present advertising plans. Use this Audit Template to review your current social media marketing strategy.
Identify which social network has the highest response rate and active followers for your industry. For example, Instagram and Facebook has an active user base for visual industry.  Linkedin is more response for professionals, brand advocates, solo entrepreneurs and thought leaders.
The follower number is just a vanity metric that shows no business achievement. It's important to remember that a huge following doesn't convert to genuine outcomes for your business, while a profoundly engaged crowd (in spite of its size) will. Adjust the targets of your social media plan with the platform that will supplement your objectives.
How To Decide Which Goals Your Brand Needs And How To Achieve Them
Recognize What Is Important
Is the number of fans or the engagement on each post?
Your answer maybe – you need both.
But your goal decides your action plan. To build more followers, you may have to implement an aggressive advertising campaign however, to build a higher engagement, you would need to focus more on creating powerful content.
2. See what moves your audience?
Do they see numbers to make a decision or they see the activity and follow the talking about your products.
So, we realize, without SMART GOALS and clear objectives, you have no real way to gauge achievement or degree of profitability for your social media strategy.
Every one of your objectives ought to be:
·         Specific: Does "increase in engagement" mean you need upto 50% increase in likes, comments and shares every week or "increase in returns" means receiving minimum 5 leads every day. Being clear about the specifics of your goal encourages you to track progress and measure achievement.
·         Measurable: Every objective need some metric. "Improvement in customer service" is an incredible idea, yet it is anything but a goal except if you have an approach to measure it. Whereas, lead count or inquiries belong to measurable goals.
·         Attainable: Your objectives ought to stretch you; however, they ought to be within reach if you do the necessary work. If you have a budget of $10 per day, do not put goals of receiving 500 new fans every day.
·         Relevant: This is the piece that ties your objective to bigger business goals. If your objective include getting likes and fans, for instance, ensure that you know how this will convert into profits.
·         Time-bound: Deadlines make for accountability. Use a time frame for your goals, so you know when to check for progress and success. This will keep a check on your money, workforce and overall efforts. Without a time-bound goal, the return may never seem to come and you may end of losing money.
Above is the S.M.A.R.T. objective system. It will control your activities and guarantee they lead to positive business results.
Start building up your social media advertising plan by recording at any rate three objectives for social media.
An example of these objectives—goals—metrics are:
Grow the brand — Awareness — Shares, Followers, etc.

Drive sales and leads — Conversion — E-mail signup, Website Clicks, etc.

Make Customers advocates — Engagement — Likes, Comments, Mentions etc.
3. Create The Social Media Content Calendar
The content calendar is the soul of developing the best social media content strategy plan.
It saves your time, schedules posts on social networks, spare you from scouring news stories and trending topics consistently searching for ideas and let you focus on the higher priorities such as building engagement.
It will likewise fabricate more remarkable consistency as far as your voice, brand, and style than posting in a responsive or impromptu manner.
Once done, you're sorted for at least a month. Yes, build your content calendar for a minimum 1 month.
1. Choosing what to post
In case you're new to social media marketing, perhaps the most significant barrier to making a social media schedule is to figure out what to post. It may even appear to be overwhelming to think of enough plans to fill a whole schedule, months early.
Let's fix it.
The first month is about experimenting with different types of content and track what gets the highest engagement from your followers.  You can try the following types to start with to create an impactful social media content strategy plan that brings engagement
Industry tip of the day
FAQ/Answer a question about your service/product/industry
Behind the scene pictures
Feature a team member
Post a poll with easy question and options
Post a short educational video or product in action video
Post a customer testimonial
Post a motivational quote
Talk about an interesting fact or note about your business or journey
These are just a few ideas that you started and they usually trigger more as you see the response.
Additionally, you can research your competitors' social profiles to see what's performing the best.
You can research the existing conversations with relevant and basic hashtags and keywords to find out what your prospects look for?
Download this social media content calendar free template
A few tips when you create your social media strategy content plan.
Test a theme content
Use a brand style guide to create consistent visuals.
Keep minimum content/words on the graphics. Use the text space to write your message
Add your own brand keywords along with industry keywords
Start with only maximum 5 types of posts
2. Arranging and dealing with a posting plan
Following your competitors' footprints is great when it's about the best time and day of posting. Do the research and make notes. Here is a useful infographic by Trackmaven for the best time to post on different social networks for maximum engagement on your social media strategy content plan.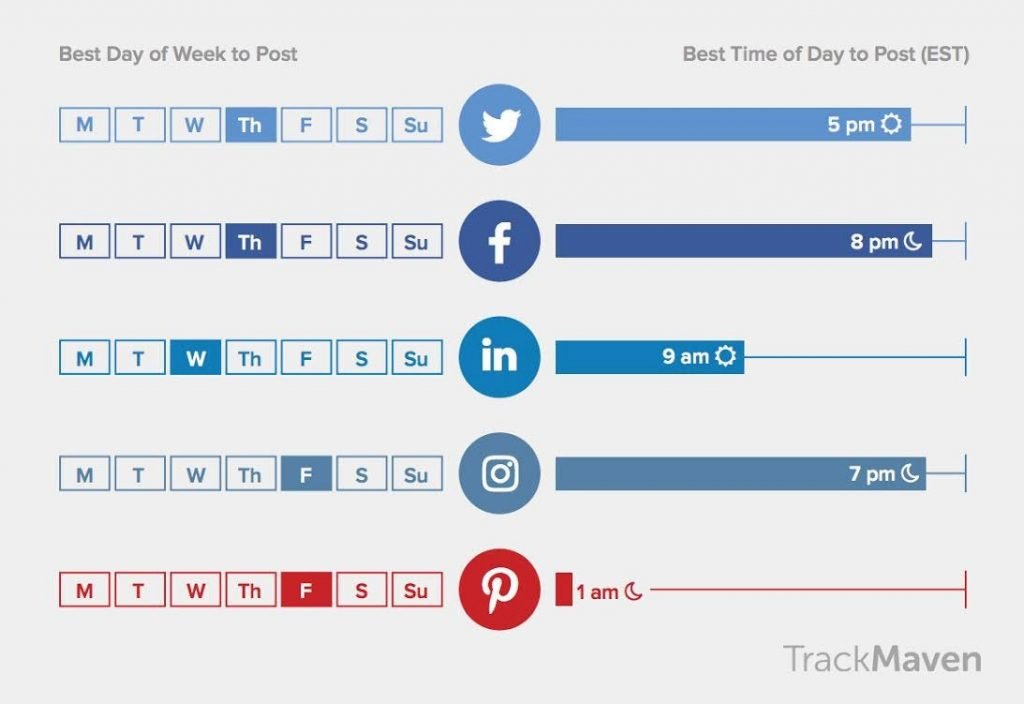 3.  Frequency of posting
Here are recommendations from the most proven industry data and research on how regularly to post to every platform for more visibility:
Facebook pages: 1-2 times every day
Twitter: 3-10 times each day
Instagram: 1-3 times each day
Instagram Stories: Once a day
Pinterest: 3-20 times each day
LinkedIn: 1-2 times each week
There are likewise best practices around the best occasions to post on each of them, separated by specific niches and businesses.
Consistent posting is one approach to staying in your audience's face; however, don't accentuate amount over quality.
Some tools feature can help you target posting times dependent on your audience's information. ViralPost audits this information and recommends Optimal Send Times for every platform you use.
Each audience is extraordinary, which is the reason you additionally need to analyze and understand your audience as you manage your schedule. Look for patterns and trends in data of your analytics, insights and calendar. Seeing patterns will assist you with perceiving how individuals on various platforms respond to several types of content and different posting times.
Tip: Whenever a content performs well, don't be hesitant to save it or make a note to reintroduce it again later on.
Note that because a post is prominent on one platform doesn't mean it will perform well on the others.
For instance, a post with high contrast catchy picture that does well on Instagram may require good amount of change for text-heavy platforms like LinkedIn.
4. Use Social Listening
Let's see what exactly is social listening?
It is knowing what your audience think about you, your competitors and the offerings of your industry.
Social listening means keeping the watch at the conversations for insights about your current market, trends, business to be able to take sensible and more profitable future decisions.
We can't deny that social media is being extensively used as a customer service platform and today, 65% of customers use social media to get brand's attention, either to point the flaws or to appreciate their good experience.
A study by Bain & Co. found that when companies respond to customer service messages on social media, those customers spend between 20% to 40% more with the company.
How do you do it?
One, you monitor various social media channels (even those you're not active upon) for your brand mentions, competitors, industry terms and keywords.
Two, you analyze this data and use the insights to modify your content and advertising campaigns. You may modify your communication with your followers.
Social listening is beyond the numbers. It's a lot about how your audience "feel" about you. It's about understanding the sentiments.
What happens when you take social media seriously?
– Better engagement on your posts and profiles
– Rise of brand ambassadors
– You get people back-up and support when in crisis
– You get attention from PR and influencers
– You become the first to address pain points of your audience, eventually earning more trust from people.
– You get more business and preference over competitors
Tools for social listening
Talkwalker
Mention
Brandwwatch
Audiense
Netbase
Mentionlytics
5. Use Social Selling to Get More Business on Social Media
Let's accept! Getting more business and new customers is the primary aim for any business on social media. Everything else is a layering. Money is the core.
Good news is – It's very much doable and achievable. Social media serves every business equally. The same audience of millions of prospects is available to everyone. The difference lies in who uses it intelligently with the right skills and strategies to make the most out of it.
Looks at this profit stats released by IDC 
91% of B2B buyers are now active and involved in social media
84% of senior executives use social media to support purchase decisions
75% of B2B buyers are significantly influenced by social media
A study by Google and Millward Brown Digital reveals that 46% of decision-makers are now aged between 18 and 34 years old, which coincidentally, is the largest social media user demographic.
All that you need is a strong social media strategy and a competent workforce of only a few people.
Recent studies have found that businesses who practice social selling generally see a $5 return for every $1 invested.
How can you afford to miss this profit opportunity?
Ready?
Let's see how we can use social selling to get more leads and sales.
1. You started with choosing the right social network towards the beginning of this blogpost.
2. Make sure that you have the right, relevant and real set of followers and networks. Ensure your advertising campaigns are made for the specific target audience.
3. Learn the art of communication and prospecting. It usually comes from following the conversations (remember social listening? It's all connected), contributing intelligently, getting attention from the potential prospects. One of these two things will happen – Either they connect with you or you initiate a connection. Both works when you draft the right message. Be active in at least 2 social media groups and communities.
4. Share smartly written success stories and case studies on your active social networks. Use advertising and boosting to get more exposure to your posts and sites.
5. Use existing customers' testimonials and video reviews to back-up your brand credibility.
6. Make sure that your social media profiles are impressive and have the latest accurate information. Make use of every single feature a social network offers to create a powerful profile.
7. Support your social media referral traffic with a simple and equally impressive website.
8. Don't overdo. Posting less is okay but posting useful content consistently is more important. Never go out of sight for more than one week.
9. Personalize your content and conversations. Respond to each message and comment. Use the names when you respond on social media.
10. Add buying details and additional information when making a business or promotional post. For example, putting a product post along with price and contact details have 80% more chances to sell.
The key to social selling is a subtle personalized approach to all your communication without sounding salesy. Stay genuine. Keep a balance between personal and professional communication.
6. Invest In Influencer Marketing And User Generated Contents
There are numerous influencers on social media, with huge followings and voices in the business, for example, prestigious scholars, business leaders, or celebrities, who can give your profile and brand a noteworthy lift with mere a shoutout.
Associating with and drawing in influencers ought to be a significant piece of your strategy. Associating with Oprah Winfrey might be quite a big shot, yet numerous others might be inside your reach. Here are some strategies that might be valuable:
Discover and follow your industry's influencers.
Concentrate on influencers who have active accounts on platforms you are and whose perspectives are lined up with those of your organization. Share, like, and comment on their contents; don't try too hard and be authentic.
2. Use a "self-image trap" technique to connect with them.
Mention them in a positive context on your blog and quote them on platforms. You would be astonished by the outcomes this may create. Influencers may follow or link to your blog and may even mention you to their followers.
3. Reach them directly.
Compliment them on their contents and inquire as to whether they could commission an article for your blog. Indeed, this may cost you serious cash; however, it will be bound to stand out enough to be noticed. Having even one article from an influencer will be colossal validity support and will help pull in others.
At the point when all fails, don't be disheartened and center your endeavors around different influencers who may not be as challenging to engage.
Create relationships with influencers via social media by sharing, loving, and commenting on their posts.
While drawing in influencers is a decent beginning stage, a definitive objective of your strategy ought to be to turn into an influencer yourself. Influencer status will do wonders for your social media advertising just as your vocation.
Moving in the direction of gaining an influencer status is a long voyage that starts with creating stunning content, consistently improving it, networking energetically, and stirring your way up to win the regard and trust of the business.
7. Monitor, Experiment & Modify
If you don't measure, you lose.
To make the most out of your efforts, money and time on social media marketing campaigns, it's important to track and analyze the insights and performance. This helps you drop the tactics that are not delivering.
What you should monitor?
The follower Growth – Your followers represent the number of interested prospects. The rate of your followers' growth decides how well your content and advertising campaigns are performing.
Moreover, the number of followers influence the new prospective followers to follow you.
Engagement – Higher engagement means a faster conversion rate. Engagement involves likes, comments and reshares from your followers. It goes to show the likeability of your content.
Reactions & Sentiments – Observe the reactions. Do your followers express love to your content, like it or feel wow about it? It directly affects the conversion and overall reputation of your brand in the market.
Mentions – Use tools like Mention, Talkwalker  or mentionytics to find how many people are talking about your brand? The more mentions mean more trust your brand has acquired.
Inquiries & questions – Getting inquiries is one of the best returns from a powerful social media strategy. It shows how well the content is getting into your audience's needs and mind to make them reach out to you. These questions can come from your organic posts or your paid advertising campaigns. More inquiries and questions about services mean higher chances of converting a follower into paying customers.
Referral Traffic – How many are you going to your website to know more about your business? Your Google analytics data can reveal a lot of insights about your audience and their interest level. How long they're staying, which pages they're looking at, which network they're coming from. These insights allow you to find your most profitable social networks and best-performing campaigns.
The above metrics will allow you to modify your strategy every month for the best returns on money.
Experiment
Your social media plan should not be fixed. Modify it often as required. Every time you run through the insights and data, drop the tactics that aren't serving you well, evaluate what kind of posts are getting maximum engagement and what type needs more work, experiment with new innovative ideas. Never hesitate to try something unconventional. People love new and original ideas. Brainstorm, sit with your team, use surveys, run quizzes, discuss with your existing customers but experiment with new tactics more often.
Over to You
Digital world is a fast world and things change here quickly. New systems develop, while others experience massive statistic shifts. Your business will experience times of progress too.
Use this post and the social media strategy template to create a DIY social media strategy plan for your small business or personal brand or hire a strategist to create one for you. But if you haven't started using social media yet, it's high time to take it seriously before you're left behind.
Next time, when someone asks you how to create a social media strategy for your business – share this post with them 🙂
How useful you found the post? Did you have any questions? Did you spot any gaps? Share your thoughts in the comments.
I am here to hear you.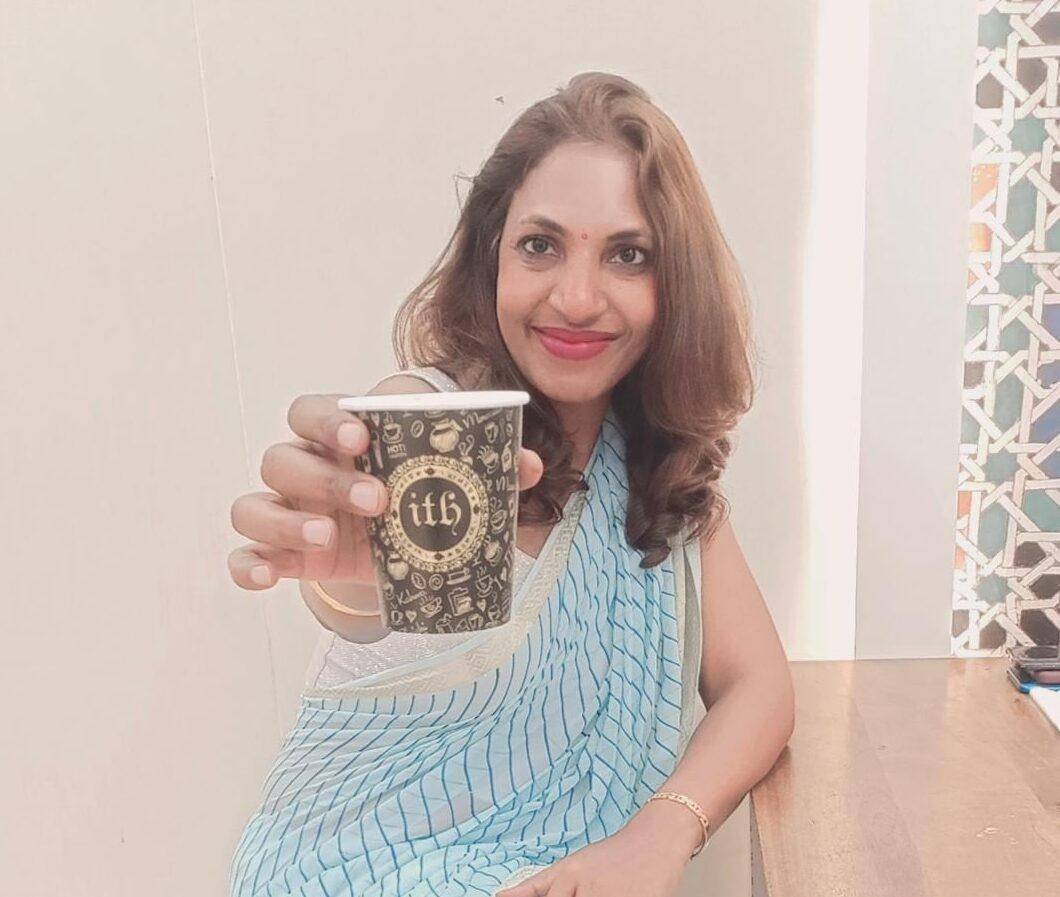 Sunita Biddu is a digital business coach and power blogging mentor helping coaches and small business owners. She helps with building a strong and profitable online presence and reputation that creates a self-sustaining business.  Sunita writes on this blog once a week about easy-to-use guides and articles about business, coaching, social media and blogging. You can grab some of her free resources and ebooks from the resources section.