This step-by-step keyword research guide is equally useful for blogs, websites & social media marketing.
Why do some websites rank highly in search engine results and enjoy high conversion rates while others never get to see top rankings despite great design, content and marketing?
How do some bloggers and website owners get their websites ranked on just the right search terms and enjoy high visibility and authority?
The answer to this is an open secret—it is all about having the right keywords.
After I have covered why keyword research should be the first and foremost step before you do anything for your online presence, it is the process of finding the right keywords that takes time, effort and a lot of trial and error, but it will be well worth it.
To build a strong online presence, you are going to need to make the most out of keywords. But not all keywords are equally good.
Let's quickly delve into the world of keywords and their significance in blog content (skip next two paragraphs if you're already familiar). We'll also discuss how to avoid common mistakes in blog keyword strategy and dive into a step-by-step guide on free keyword research, along with effective tips for keyword placement in blogs.
What Exactly is the Keyword & Keyword Research?
Keyword is the term that users enter in search engines to get their desired information and results. These are actually keyphrases, not one word. For example, you might have landed on this blogpost after searching one of these keyphrases;
Keyword Research is the process of finding these keywords that drive traffic & visibility to your brand, blog or products.
Doing profitable AI keyword research saves you huge money, time by driving free traffic from search engines.
How to Do Keyword Research
I will cover three ways of doing keyword research for blogs. You choose based upon the time you have, depth of keyword research you want and the purpose of doing this keyword research.
Process 1 – Detailed Keyword Research Suitable for Every Purpose / Business Websites
Step 1: Research and Build SEED your Keyword List
There are two ways to begin your keyword research in this process: with your content first or with the keywords first.
Content-first: You already have a product or service in mind and would now like to draw visitors to your site. All you have to do now is find the right keywords that will bring the right visitors to your website.

Keywords-first: You are looking for search terms that will bring high quality traffic. Once you find these, you will build your content around them.

Build your SEED keyword list
Once you've identified your approach, it's time to start building a foundational list of potential keywords. This list should include all the search terms that you think will bring visitors to your page. Just put down whatever comes to your mind and don't be hesitant when making this list because you can review and revise it later. Here are some general guidelines to follow:
1. Put yourself in their shoes. Think. What would you, as the customer, enter into the search box when looking for something? What terms would you use to refer to it? What words would you use to describe it?
2. Look for trending search terms. Analyze social media and search engine trends to find out what most people are currently looking for. You can use tools such as Google Trends or Google Adwords to do so.
3. Find variations of popular search terms. By utilizing tools like Soovle.com, you can effectively incorporate keyword variations into your blog content. This allows you to expand your keyword list and cater to the most popular search terms, providing valuable insights into what people are actively searching for across various search engines.
4. Use specific search terms. The more specific your keywords, the more likely it is that you will attract visitors with a specific interest in your product. These visitors are usually the ones closest to a conversion.
Step 2: Review and Classify your Keywords
Now that you have a nice list of search terms, it's time to review it and find out which ones bring in the highest quality traffic.
Classify your keywords in a pyramid and select the best ones

Specific product name: Using the exact product name will bring visitors looking for that specific product to your website. Such traffic is generally the highest quality, but lowest quantity. (Example: "Nike Air Max 90 shoe")
Specific brand name: Using a specific brand name broadens your potential audience, bringing in all visitors who are interested in the brand. This generates more traffic than the above method, but this traffic will be of a slightly lower quality. (Example: "Nike shoe")
Substitute products: These are products that serve the same purpose as your product. This generates high quantity traffic at the cost of quality. (Example: "slippers")
Complementary products: These are products that are typically bought together with your product. Basing your search terms on such products will bring in even more traffic, but of a low quality as your product is not what the visitor is mainly looking for. (Example: "insoles")
Generic product type: Using a generic product type as your keyword has the potential to bring in the most traffic. However, this traffic will generally be of the lowest quality. (Example: "shoe")
Blog keywords: Harness the power of question-based keywords for blogs to educate and build trust with your audience. Empower your brand as a reliable source of valuable information and assistance.
Social Media Keywords: These are phrases similar to blog keywords but following the latest trends and more suitable to attract your target market on social networks. However, these keywords can be very well utilized in the blogs too.
Did you like this easier and priority classification in your keyword research? You can get an advance keyword research report for your business and dominate search engines, social networks and your industry.
As you can see, more specific keywords bring in higher quality traffic. These are the ones you should focus on. Do not rely too much on third, fourth and fifth tier keywords. These keywords generally bring in visitors who are looking for something other than what you have to offer and are therefore not a good match for your website.
Once you have classified your keywords, you can move on to the third step.
Step 3: Revise and Shortlist your Keywords
Now you have a list of keywords, you can start determining which ones to prioritize.
Use online keyword research tools
To help you with this, you can use any free keyword research tool for your blogs that you are comfortable with to find out more about each keyword. Here is a list to start you off:
• Google Adwords Keyword Planner Tool
• Microsoft Bing Ads Intelligence [Wordstream supports Bing keyword research]
• Wordtracker [They even have an academy to help you learn SEO, online promotions and keyword research]
• Wordstream [You'd like to follow their regularly updated SEO blog for more learning]
These tools will provide you with lots of information which you can then use to determine which keywords to prioritize. For a particular search term, these tools can help you to:
• Estimate the search volume
• Determine the cost of paid campaigns
• Estimate how much competition there is
• Estimate how difficult it will be to achieve high rankings with keyword difficulty
Armed with this information, you can now determine which keywords to keep and which ones to remove.
Step 4: Prioritize your keywords
Score each keyword as you shortlist them (I use a range from 1 to 100) and this will help you to know which ones to prioritize. As you do so, keep in mind that the more keywords you try to use on your website, the less optimized it becomes. So don't try to keep every keyword. Cut out the ones that are the least effective and focus on the most effective ones to avoid confusing the search engine crawlers.
How many keywords should you shortlist?
This varies with the size and complexity of your project. A dozen or so will suffice for a simple product while a large project will require hundreds. Ideally, it is appropriate to have one focus phrase and 5-6 supplementary phrases around the focus of the page. This approach ensures appropriate keyword density and optimisation for blogs.
Step 5: Evolve. Research. Revise. Review
Now that you have a shortlist, you can give yourself a pat on the back, but your work is not done yet. Most of the marketing campaigns fails after a while because they do not update their keyword list with the latest data which eventually improves conversion rate. You will need to continually revise your keywords list, make sure that you keep up with the latest trends, and tweak your keywords to prioritize those that work best for you.
Here are some pointers to keep in mind:
• Examine your own site analytics. SEO keyword research tools for blogs can only offer you generalized data at a certain point in time. They cannot predict success or failure over a prolonged period of time. The best way to find out which keywords work best is by analyzing your own site traffic. Look at which keywords bring the most traffic to your site and which ones bring in the highest conversion rates. Those are the keywords that you want to capitalize on.
• Continue to expand and refine your keywords list. Utilize the strategies mentioned above to identify extensions or variations of your target audience keywords that attract more visitors. Keep refining your keyword list by eliminating weaker ones for better blog targeting.
Process 2 – Easy Keyword Research for Blog Posts
When I am in a rush and the topic is too good that I can't wait to do a detailed keyword research like above, I do this quick keyword research for blogposts so I don't lose that moment of excitement and motivation.
It works amazingly to create a decently SEO optimized blogpost and I can always come back to optimize it better.
Here we go with quick step by step keyword research for blogposts
You need a "seed keyword" to start with this and any detailed or quick keyword research.
Enter the seed keyword in Google. Scroll down to the last search result and collect the suggested keywords by Google at the end of the page. For example, for this post, I used "keyword research" as the seed keyword and found this; Copy the most relevant keywords in a notepad.
3. If the search returns Google questions, copy some as they make great long tail keywords for blogs. Check the screen for my search.

4.  Lastly, use chrome extension as I suggested in the keyword research tools section. I use Keyword Everywhere and it gives me these results. Pick the most relevant and add to your list for this post or page.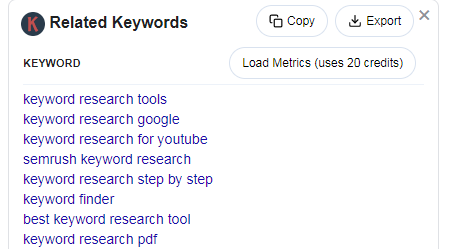 This quick 4 steps keyword research for blogposts can give you one focus keyphrase and 8-10 great long tail and related keyphrases. If you have a few more minutes to spare, you can run this list through a tool to check search volume. Else. it's great to go. When you publish this optimizeg blogpost or page, you'll start noticing it rankings within 7-10 days along with a few more keywords in your search console. Optimize the post or website page regularly until it ranks on multiple keywords and on top 5 results.
For example, this post about adsense approval ranks on over 100 keywords. And I still optimize it once a month or two for more keywords.
Note that this process is good when you quickly want to write a blogpost and do not want to miss on optimization. A  blogpost without optimization is most likely to be lost, nowhere to find in search even if it has best of the information.
Best Keyword Research Tools
I'm providing a comprehensive list of keyword research tools, both free and paid, to help you discover the ideal tool for finding local and seasonal keywords and trending topics for your blogs. Take the time to test and explore these tools to find your personal favorite for routine keyword research for your blogs and website pages.
Completely Free Keyword research tools
Free Keyword Research Chrome Extensions
This works superb for doing routine, quick and easy keyword research for blogs.
Paid keyword research tools
These tools offer useful data such as search volume for blog keywords, keyword difficulty for blogs, latest search update & trends, CPC etc.  You can do a test search first with their free trial period or daily limited free searches.
Long tail keyword research tools
This is my personal favorite and I love these keyword research tools for 3 simple reasons –
Competitor keyword research for blogs can quickly propel your websites and blogs to top rankings for low competition keywords. It's a powerful strategy that accelerates your online visibility and drives targeted organic traffic to your content.
They give high conversion keywords.
I see almost instant traffic boost.
Common Keyword Research Mistakes
#1: Over-reliance on Short Keywords
Many SEO beginners start out with the misconception that shorter keywords reach a broader audience and thus translate into higher traffic. But not all traffic is good traffic. Here are the pros and cons of each.
• Short keywords bring a large amount of "drive-by" traffic—visitors who are just browsing and are unlikely to make any purchases. This translates into a low rate of conversion. Also, competition is stiffer because there are fewer possible 1-2 word phrases.
• Long-tail keywords bring in visitors who are looking for something specific. These tend to be the ones who already have something specific in mind and are ready to finalize their purchase. This translates into a high rate of conversion. Also, you will face fewer competitors because there are many more possible 3-4 word phrases.
It is, therefore, better to target a specific audience with multiple long-tail keywords rather than try to cast a wide net with a few short keywords. Here's a simple illustration.
• Tommy is searching online for a shoe. He doesn't know whether he wants a Nike, Adidas or Reebok shoe. He searches for "shoe" and finds your website. Because he hasn't narrowed down his choices yet, he isn't ready to make a purchase, and he leaves your website 5 minutes later.
• Roger is searching online for a Nike Air Max 90. He has his wallet out and is ready to buy. He enters "Nike Air Max 90" and is brought to your website. 5 minutes later, he makes a purchase.
As you can see, many people will be like Tommy—searching for a shoe—and very few people will be like Roger—searching for the Nike Air Max 90. But the people like Roger are far more likely to make a purchase than the people like Tommy.
Note: That doesn't mean you should ignore the short phrases with high competition. This is just to encourage focus on long tail keywords in such a smart manner where the short phrases are covered under longtail.
#2: Right Keyword, Wrong Place
Good placement of keywords makes your content easily accessible to search engine spiders and is highly important. Here are 5 do's and don'ts for keyword placement.
1. DO use keywords in the following places:
• Page title
• URL
• Meta tags and the meta description
• Headings
• First 200 words on a page
• Anchor text (links)
• Image alt text
2. DO use variations of the same keywords
3. DO use synonyms of the keywords. Different people search same thing but using different words. Take care of this and you'd be a winner.
4. DON'T attempt to manipulate search engines by:
• Using hidden text that is invisible human visitors
• Spamming keywords
5. DON'T treat the search engine spiders as your target audience. When people visit your website, you want them to stay, not be put off by the repetitive use of keywords.
6. DO remember that search engine algorithms are constantly being updated and improved on. The best way to keep up is to create content for users, not search engines.
Once you have a firm grasp of the basics, it's time to start the process of researching, reviewing and revising your keywords.
With all this in mind, you are good to go. Just remember: Research, revise, review. Rinse and repeat.
Smart Keyword Research Tips
Start targeting and optimizing long tail keywords first. The short and compeitive keywords are optimized on their own with this strategy because they are a part of most long tail phrases. For example, targeting "how to do keyword research for seo step by step" is a long tail keyword but covered the competitive keyword, "keyword Research" along.
Many google keyword research tools sites allow more free searches when you register with them. Try it.
Do take free trial periods with paid keyword research tools. Make sure to remember the trial end date so you can cancel your subscription and credit card if you don't like the tool.
Take your time to do a complete keyword research. The more specific and narrow your keyword research is, the more profitable it is.
Use question form keywords more often. They convert surprisingly fast into paying customer and sales and rank surprisingly high.
If you need any further help with keyword research, or if you have questions or comments about this article, feel free to contact me. I would be more than happy to help and answer any questions.
My next post will be about optimizing your social media content for higher search engine rankings and natural traffic. Subscribe today to receive right into your inbox.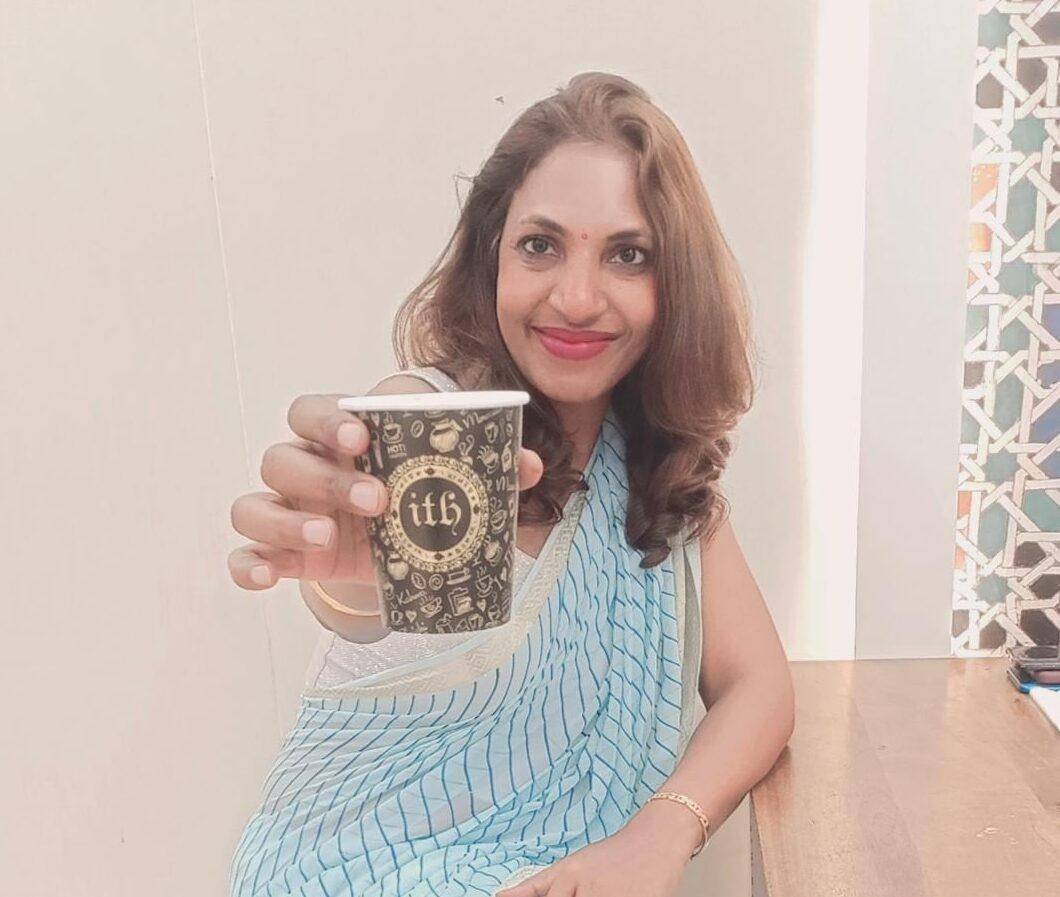 Sunita Biddu is a digital business coach and power blogging mentor helping coaches and small business owners. She helps with building a strong and profitable online presence and reputation that creates a self-sustaining business.  Sunita writes on this blog once a week about easy-to-use guides and articles about business, coaching, social media and blogging. You can grab some of her free resources and ebooks from the resources section.