The significance of blogging is known to many. People usually blog for personal reasons when they share information on the web about ideas and topics they are passionate about. When businesses blog, they mostly do so to increase their visibility and grab their potential consumers' attention towards their business.
There are a lot of both free and paid blogging platforms that help people set up blogs. 'Blogger' is a free blogging platform powered by Google that helps users to create and work around with blogs in a much easier way.
Here's a step-by-step process with pictures on how to create a blog on Blogger–
The first step in creating your blog is to open the website in your browser.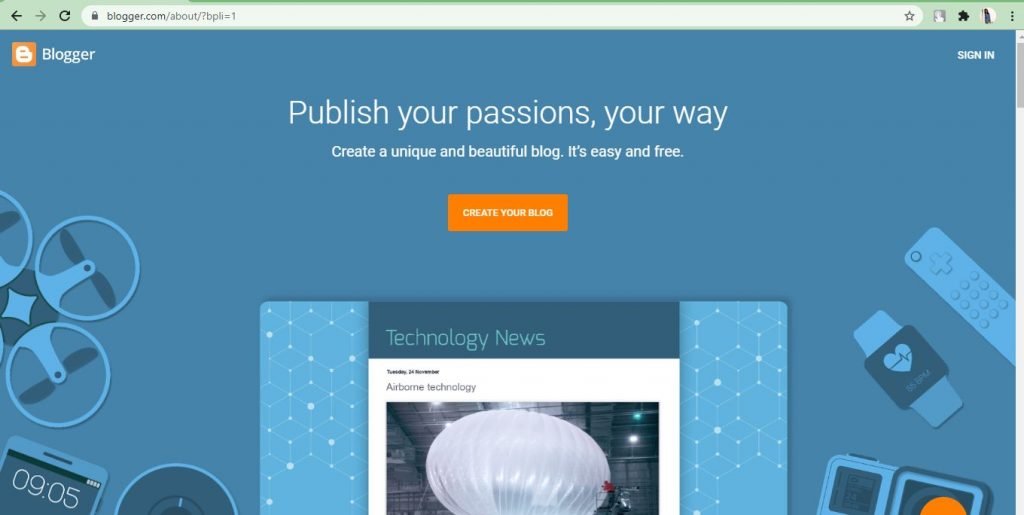 Once this is done, click the orange-colored 'Create your blog' button that can be seen right at the center of the page. After you do that, the site will ask you to Sign-in with your G-mail ID to continue. If you don't have one, create yourself a G-mail account before starting this process.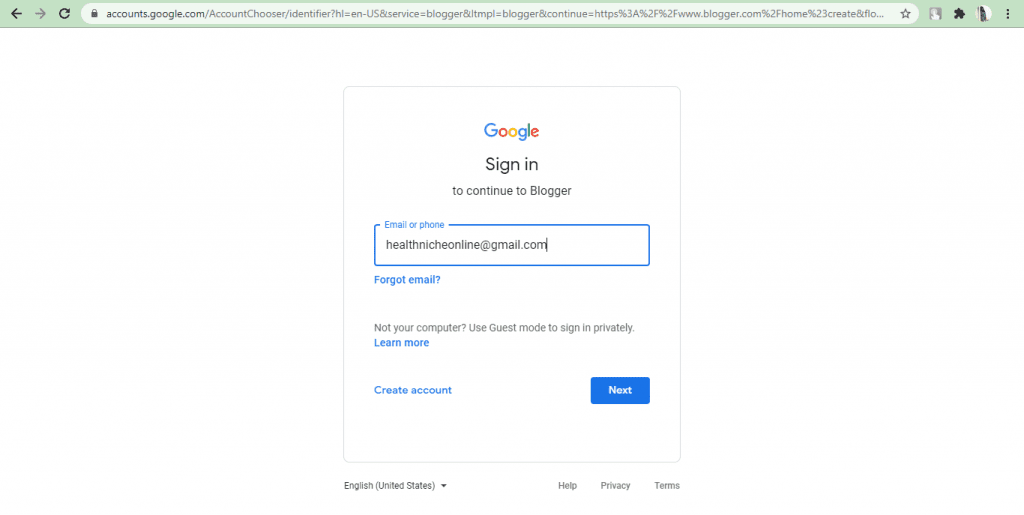 2. Give a name to the blog, blog address and choose your display name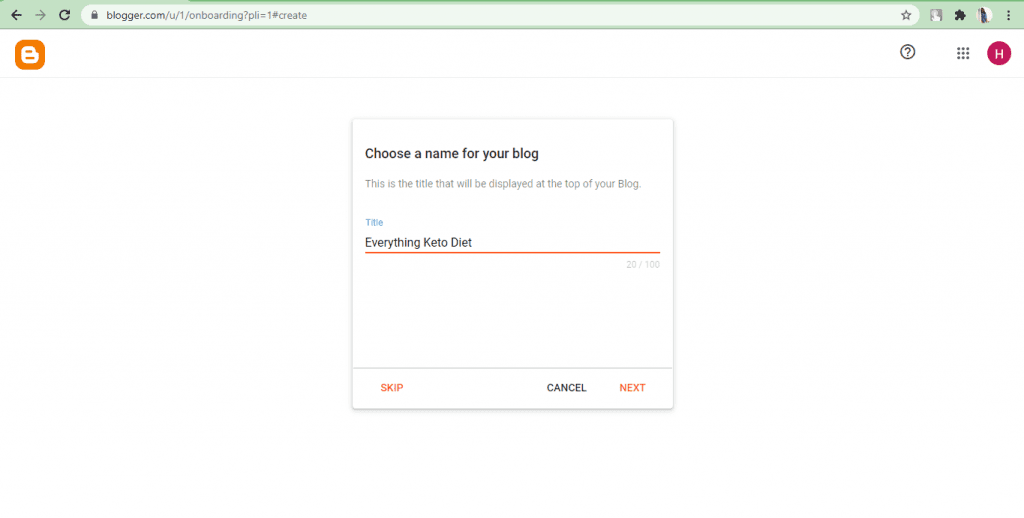 Giving an appropriate name to your blog is an important step. Make sure you give a catchy and easy-to-remember name. If you want to change the name of your blog in the future, you can do so in the 'Settings' option.
Bonus Tip: DO NOT use numbers, symbols, or any special characters (like underscore, a hyphen, etc.)
Here are a few original creative blog names:
• Food – Tasty Treats, Soul Food, The Baker Bites, Happy Bowls, The Healthy Way
• Fitness- Fun n' Fitness, A Bit of Fit, Cardio Choice, Burn Bright
• Travel- Street Lights, The Blue Skies, Wind and Warmth, Sandy Spots
Click 'Next' to enter a URL address for your blog.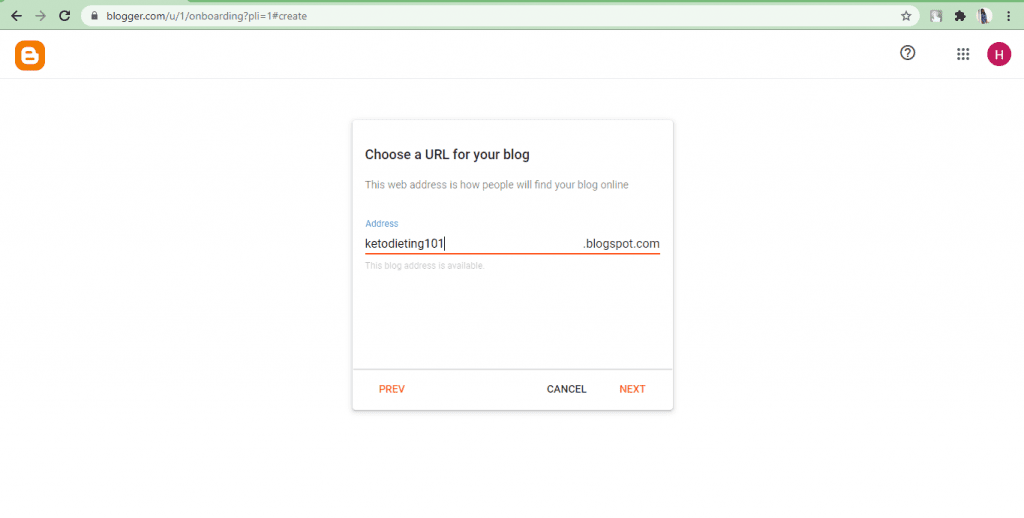 As you type the address, you can see a small message below the text area that prompts you about the availability of the address. Once the availability of your blog address is assured, click on 'Next' to give a 'Display name'.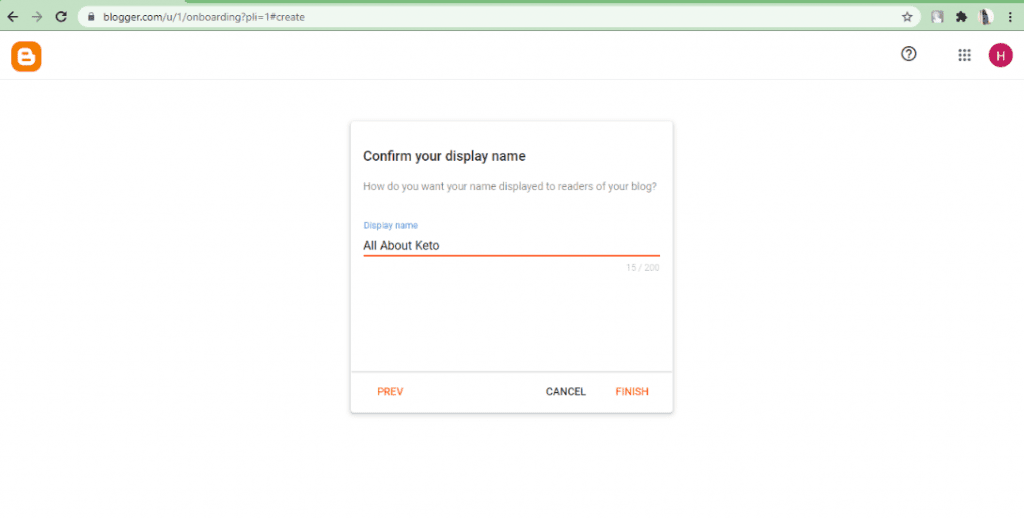 Display Name is the name that appears to your readers when you comment on posts or your profile page. Click 'Finish' after this step.
Yay! You have now created your first blog on Blogger.
3. Creating a new post and the use of the toolbar
After you have completed the above steps, you finally have your own blog to write and publish posts.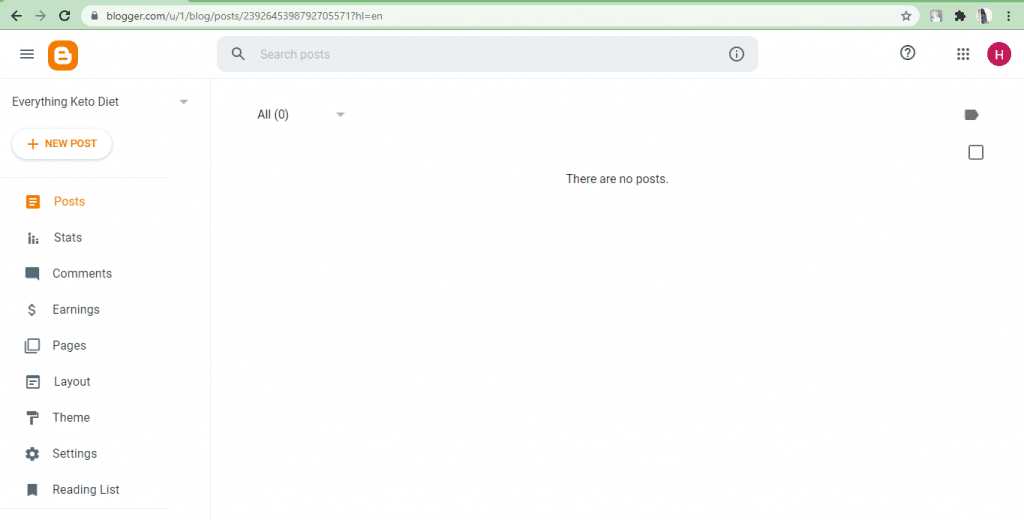 This is the screen that will be visible to you after you have created the blog. On your left side panel of the blog, you will see the blog dashboard.  Click the 'New Post' option to write your first post.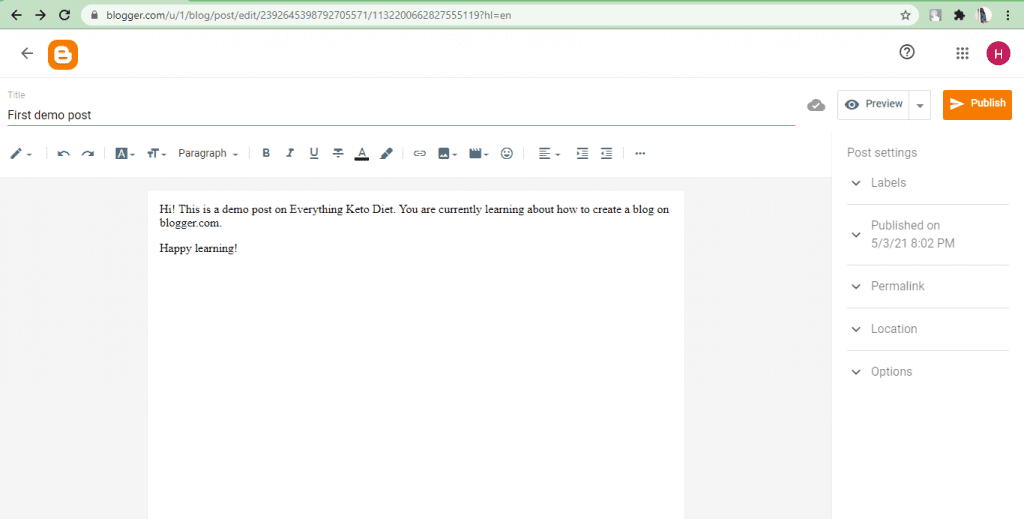 Type up your post in the space provided and also give a title to your blog post in the 'Title' space provided at the top of the toolbar.  Writing in Blogger is an easy task as there are not many complications with using available features. It is similar to typing in any other text editor like MS Word or Google Docs.
The toolbar at the top of the compose section helps you edit your content and make it look more structured and presentable.

You can change your font styles, font size, add images or links, change your post layout, and do many more. If you want to type your post in HTML format, you can do so by clicking the pencil icon at the left most corner of the toolbar.
4. A sneak-peak into Important Post settings
Before you publish your post, you might want to take a look at the Post settings that is provided at the right-side corner of your screen.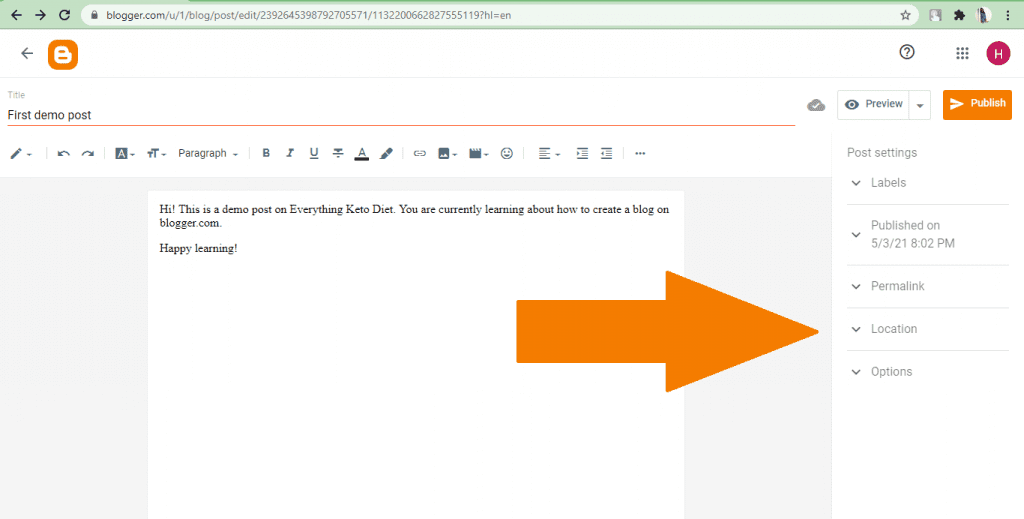 Under Post settings, you can find Labels, Time of Publication, Permalink, Location of publication, and other options.
Labels– Adding label tags can help you group together posts of similar content and also help readers find your blog post on search engines matching the user's search.
Time of Publication– This feature allows you to decide whether you want to publish your post immediately or sometime later in the future. You can set a specific date and time in the future to publish your post.
Permalink– In this option, you can customize the URL address that directly links to your post to make it a search engine-friendly url. By default, this address will be based on the title of your post, but you can edit it however you would like.
Location– You can add a location tag to your post. It will help readers know where you are publishing your post from. This is used mainly for travel blogs.
Options– Under this, you can select your choice of preference when it comes to posting comments.
5. Publishing the post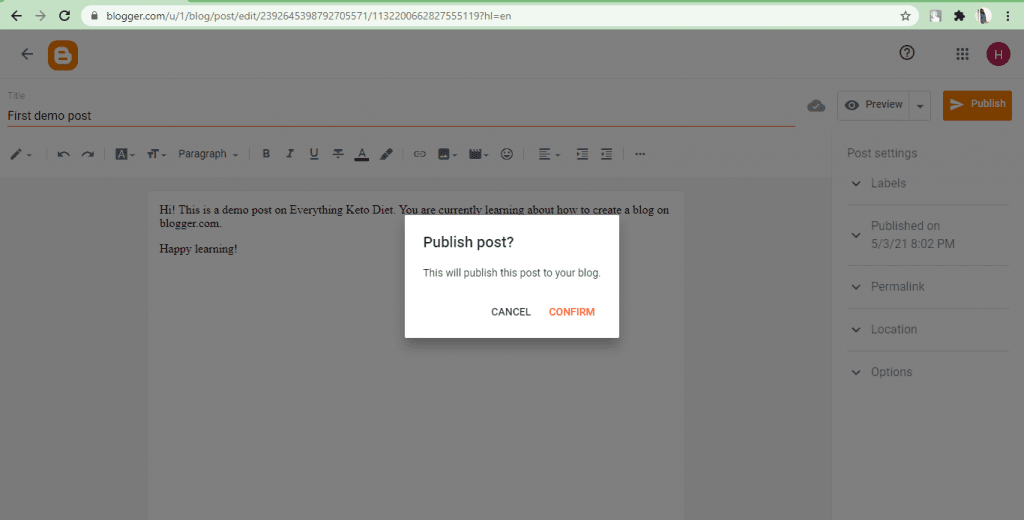 For the final step, click on the 'Publish' button at the top right corner. Click 'Confirm' to the message if you are satisfied with your post.
Hurray! Give yourself a pat on your back for successfully publishing your first post on Blogger.
Apart from these steps, here are some more tips on optimizing your blog for better efficiency with the help of options available in the 'Settings' option. You can also customize your blog by changing themes and layout as per your preferences.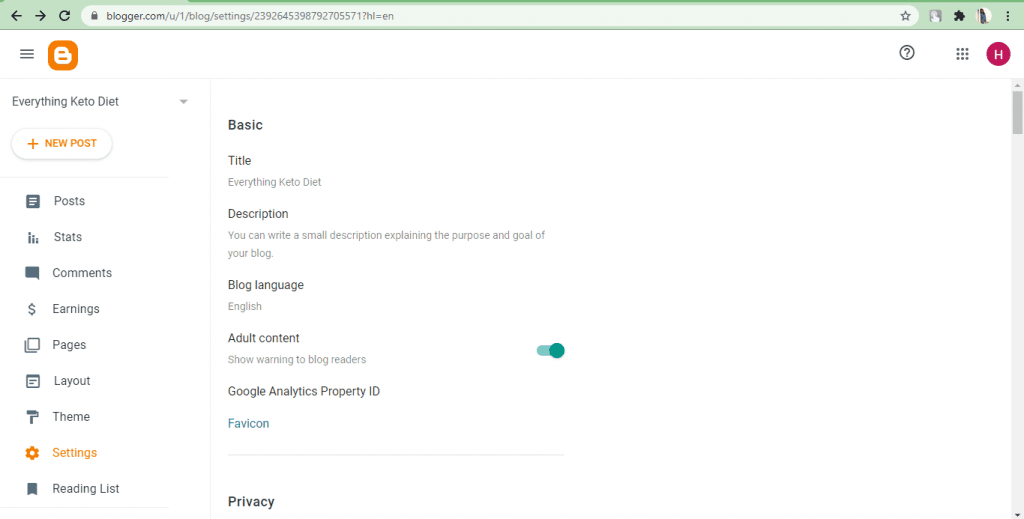 These are some basic settings options that you will find. You can change your blog name and add a small description of your blog to tell readers what your blog aims to share. If you think your blog will discuss sensitive topics and often require a trigger warning, make sure you enable the 'adult content' option.
If you scroll through settings, you can find 'Meta Tags', 'Errors and Redirects', and 'Crawlers and Indexing'. These features help in the optimization of your blog for search engines and get better rankings on search engines.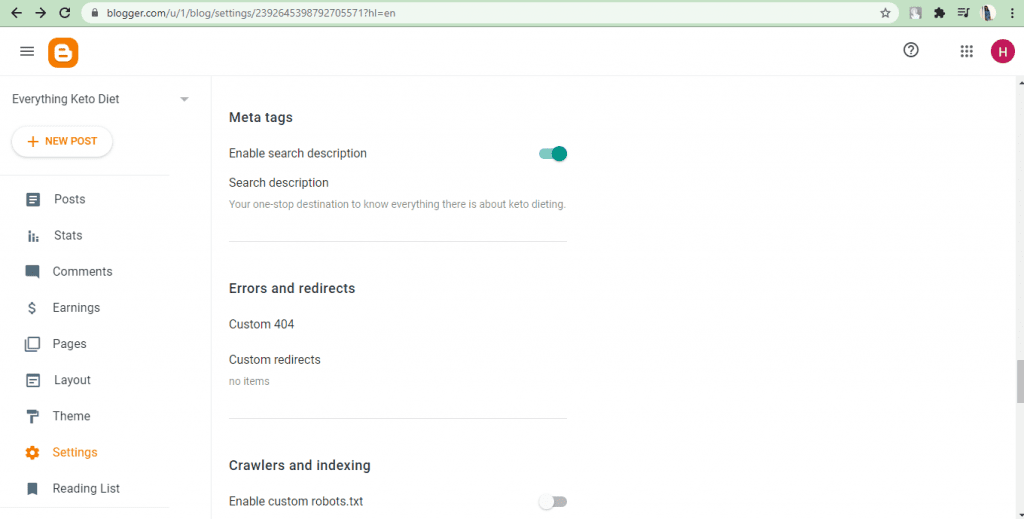 Meta tags enable readers to focus on the content of the blog and give a concise summary of what your blog is about. Your meta tag description must be within 150 characters.
'Custom 404' allows you to customize the 'Page not found' error message. If someone uses a URL that no longer exists, you can instruct them on what to do next by setting customized text. The 'Custom Redirects' option helps you to shorten the length of your full-length permalinks.
'Crawlers and Indexing' must be handled with proper research and care. If not handled with caution, this may result in losing your search engine visibility.
With this, you have completed the SEO set-up for your blog. One last step before you start exploring and working with your blog is taking a look at the 'Themes' for your blog.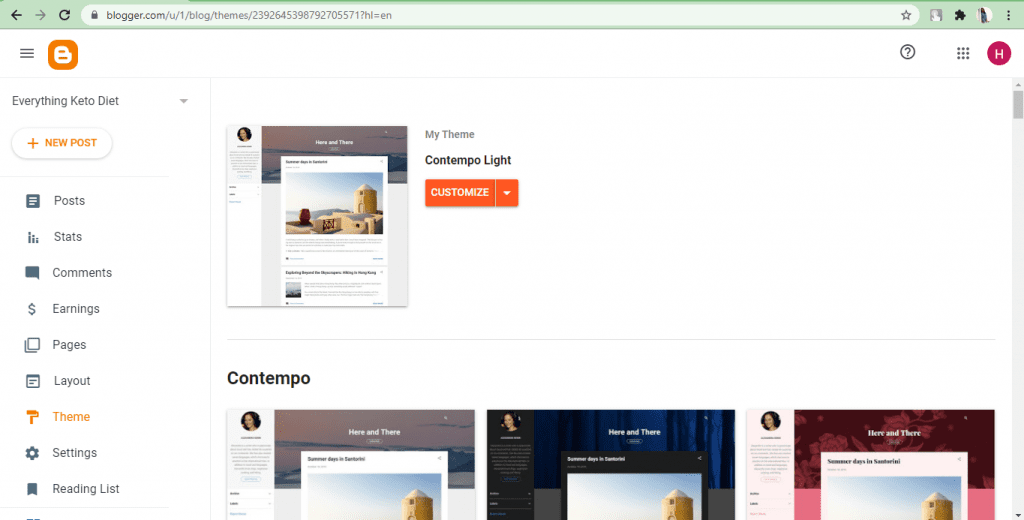 Click the 'Theme' option in the dashboard to your left and select from a variety of themes and click 'apply' to use them. Having an attractive and beautiful design for your blog will definitely make your content look better and will also help in grabbing the reader's attention.
That's it! You have done it! Creating a blog and setting it up might seem like a tiresome task. But once you learn your way around it, you can finally sit back and enjoy blogging.
A fun and crazy blogging adventure await you!
Got any questions? Feel free to ask.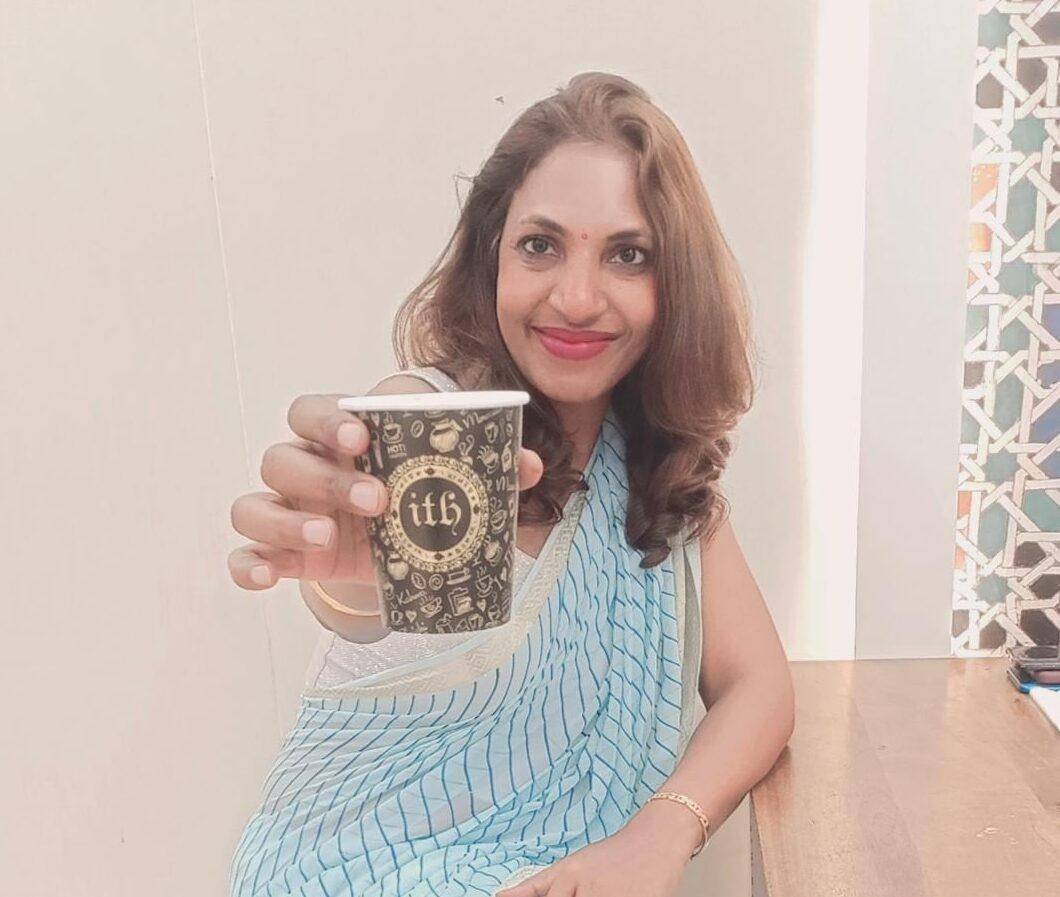 Sunita Biddu is a digital business coach and power blogging mentor helping coaches and small business owners. She helps with building a strong and profitable online presence and reputation that creates a self-sustaining business.  Sunita writes on this blog once a week about easy-to-use guides and articles about business, coaching, social media and blogging. You can grab some of her free resources and ebooks from the resources section.