When you set up a blog, choosing the perfect design template that fits your niche, goals, content type, and brand personality is an important step. When you select a blog template for your blog or website, there are a few things you must keep in mind.
While each design template is packed with a number of useful features, there are three important aspects of a template that you must always look out for. They are:
Customizability – Make sure the template you choose is a good fit for your blog. It must compliment your content pieces and their theme. Find templates that offer plenty of font options, color schemes, and layout features.
Quick Loading Speed – If your site takes more than three seconds to load, your visitors are going to bonce and find other sites that cater to their needs quicky. When you select a design template for your blog, make sure it promises a fast-loading speed.
Functionality– Each blog template is functional according to the blogger's needs. Before you choose yours, look out for features and elements that especially fit your blog. For example, if you own a travel blog, select a template that allows you to add a lot of images and videos. It has to be a visually rich template.
Blogger, the blogging platform powered by Google, delivers superior quality templates to its users (both newbies and professionals) to make blogging simple and fun. It is a secure and reliable platform with well-designed, beautiful, and 100% responsive templates. It offers both free and paid versions of templates.
Free Blogger Templates
The following blogger templates are researched, tested and recommended based upon
… Conversion rate
… Readership
… Ad friendliness
… Loading speed
… Simplicity and easy navigation
… Modern and minimal aesthetics
Updated just a month ago, this Blogger template has a highly responsive layout that loads super-fast. It also supports Google-rich results, breadcrumb functionality, and a custom 404 page.
Recommended for : Bloggers planning to monetize with AdSense and affiliate marketing



With a feature that adapts itself to any device you view the blog on, Beautly Blogger template ensures that your blog is very appealing and remains focused on content.
Recommended for: Beauty and lifestyle bloggers, Review bloggers, affiliate bloggers



Updated schema meta tags, template customizer, a sticky sidebar, multi-drop-down menu, and a mobile-friendly design are the special features of Eventify Blogger template.
Recommended for: Business and service bloggers, writers, news bloggers, tech bloggers



Updated only last April, the Soraedge Blogger template provides your blog with ready-made widgets and unique layout options. You can also make use of the latest and premium Google fonts.
Recommended for; Multi-niche blogs, multi-author blogs, news blogs and magazines, adsense and affiliate blogs



Known for its sleek and simple design with just two columns and custom widgets, this Blogger template is the perfect choice for technology and gaming-related niches.
Recommended for – Tech blogs, Lifestyle blogs and magazine, health blogs, news magazines



The Hudson Blogger template's design is minimal, modern, and clean. Most suitable for business blogs, it has a 3-column design with left and right sidebars for high functionality.
Recommended for – Writers, authors, adsense blogs



Adapted from WordPress, this Blogger template gives your blog an artsy outlook with fun fonts. Often recommended for writers or artists, it offers auto post summaries, social sharing icons, and footer columns.
Recommended for – authors, writers, freelancers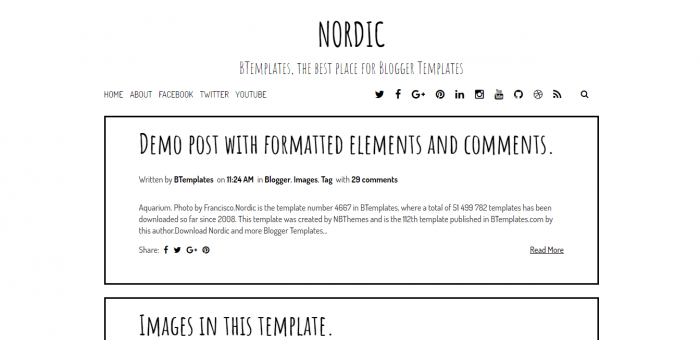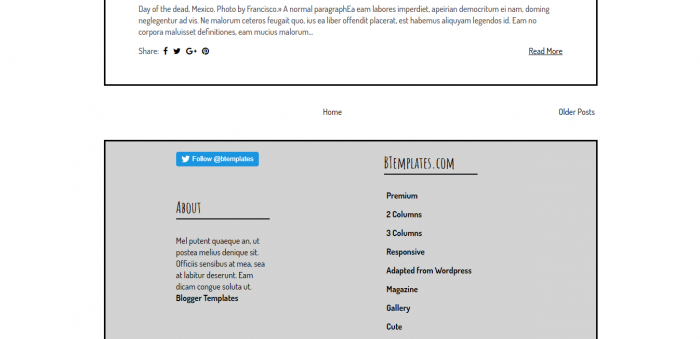 Elegant design with black and grey as the main colors, Suits Blogger template gives a professional look. It has a two-column layout and three-column footer that ensure responsive design.
Recommended for – writers, authors, freelancers



Premium Templates
A multi-purpose Blogger template that is highly responsive, has a multiple comment system and super support services, MagOne is known for its capability of translating the template to any language.



Anartisis Blogger template serves as a great option for news sites, magazines, and publishers. It offers several options on design like grid or list layout and the ability to customize image positioning.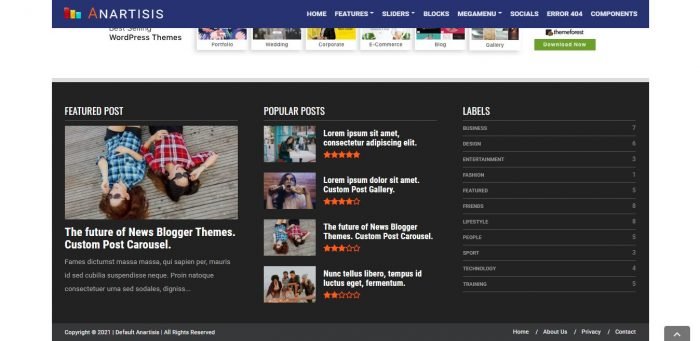 If you are planning to start blogging on Blogger, make sure to check out both its free and premium theme templates. Though free templates are good enough for your blog, premium versions have their own set of pros. Explore a lot and don't settle with templates that don't fulfill your blog's needs completely.
Sunita Biddu is a social media and power blogging coaching helping entrepreneurs and small to medium businesses. She travels 365 days to her choice of places around the world. She writes on this blog once a week about easy to use social media and blogging tips. You can grab some of her free resources and ebooks from the resources section.